The Square D I-Line power distribution panelboards are trademarked by Schneider Electric. These power distribution panel boards can be used in both AC and DC systems. Industrial applications favor these panelboards because often times they feed large loads of motors.

Before a discussion of these popular panel boards, it helps to understand the standards for design, manufacture and testing of the I-line panelboards.
Standards
These are the standards for manufacturing I-line panelboards:
UL 50: the standard dictating electrical equipment enclosures
UL 67: the panelboards standard
CSA C22.2, Nos. 29 and 94 – 1989: the standards for panelboards and enclosed panelboards
NFPA 70: National Electrical Code (NEC)
NEMA PB 1: panelboards standard
W–P 115C Type 1 Class 1: dictates the specifications for the circuit breaker panelboards
2000 IBC: standard in S. for seismic requirements
1995 NBCC: standard in Canada for seismic requirements
Depending upon the enclosure and environment, i.e. is the panelboard installed outside or inside, the enclosures for the I-line panels provide protection against normal physical contact, rain or falling dirt, ice, corrosion and even hose-directed water, dripping liquids and other hazards that may be a regular occurrence at the site.
The I-line power distribution panelboards are a marvelous product and a large variety of system voltages use them. These include 120/240VAC with a 1 phase, 3-wire system; 240VAC 3 phase, 3-wire system; 208Y/120VAC and 480Y/277VAC, 3-phase, 4-wire systems; 600VAC, 3-phase, 3-wire systems and much more. Also, for DC systems, 125/250V, 3-wire systems and 250 V, 2-wire systems utilize them.

If you plan to purchase used electrical panels and are unsure about specifications, you can easily find the product ID and then look in a catalog or check with your provider or a reliable online store.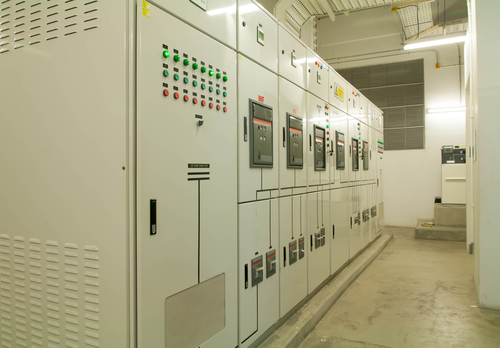 Compatible Circuit Breakers
The I-line panelboards are popular for many electrical applications. Of course, with panel boards, choosing circuit breakers can be difficult not only because of specification, but also because of the physical dimension of the panelboards and circuit breakers. I-Line Panelboards have been designed to be compatible with many families of circuit breakers including FA, FH, HD, HG, HJ, QD, QJ, JD, JJ, JL, JR, LG, LJ, LR, PJ, PK, PL and RL.

One of the more popular circuit breakers is the LJA36400U31X Square-D circuit breaker. This 3-pole molded case circuit breaker has an amperage of 400A and handles up to 600V AC. This large circuit breaker consist of the electronic standard, Micrologic 3.3 LI trip unit technology.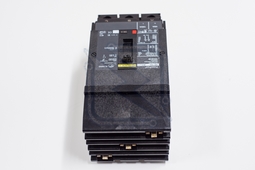 The HJA36100 H-frame molded case circuit breaker with 3-poles, 100A, 600 V specifications is also popular for the I-line panelboards. It features a thermal-magnetic trip unit technology with magnetic tripping current of 1700A.

The member of the JD family of circuit breakers, JDA36200 has also been used frequently on the I-Line power distribution panel boards. This circuit breaker has an amperage of 200 A with 3-poles, 600 V specifications.

It also features thermal-magnetic trip unit technology with magnetic tripping current of 2000A. The JDA36200 is a green premium product and needs no specific recycling operations.

These circuit breakers are also popular as reconditioned units as well.
Optional Features
Schneider Electric offers some modern features as an option for their Square-D I-line panel boards. Among the more popular optional features is the availability of individual displays and communication among the devices in the panel board, particularly communications with smart circuit breakers. The panelboards have enough space to wire for communication or control within the panelboard.

Individual displays for circuit breakers are also available for metering purposes and are compatible with the panel boards.

In many applications, it is important to have quick and easy access to vital data from the panel boards. For such applications, where the metering of circuit breakers is vital, this optional feature comes in quite handy.
Conclusion
Square D I-Line power distribution panelboards are Underwriters Laboratories (cULus) listed and accept I-Line branch circuit breakers and one of the more popular families from Schneider Electric. You can install most of the compatible circuit breakers with just a screwdriver.

Some of the older versions of these electrical panels or compatible circuit breakers have gone out of the manufacturing cycles but you can still purchase them as used electrical equipment. Of course, if you think a reconditioned or used circuit breaker will work for you, make sure you purchase one from credible suppliers and ensure the boards have passed all relevant tests.