Know What's Inside an Electrical Panelboard Enclosure
You're probably familiar with the electrical distribution panel in your home when your lights have gone out because electrical appliances overloaded the system. In this article we're going to expand on what you know and look at what's inside heavy-duty Electric Power Distribution Panelboards in industrial and commercial buildings.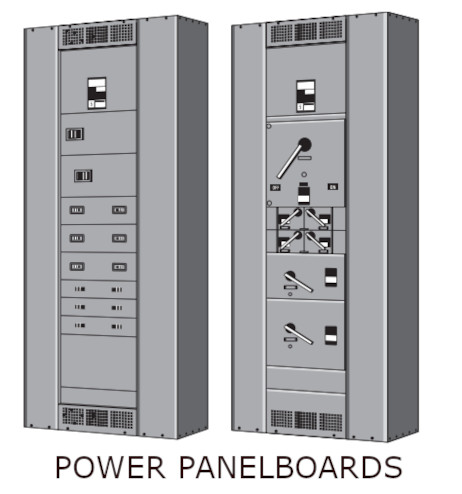 We'll cover how they protect devices like fuses, breakers and electrically charged internal wiring during overloads. We'll discuss basic components and construction of electrical power panels typically ranging from 200 amp to 400 amp all the way up to 800 amp service in commercial and industrial buildings. Looking to replace or upgrade your Electric Power Panel board? Let's get started.
Panelboard Enclosure, Box or Can: What's the Difference?
Electrical Power Distribution Panelboards come in different sizes, and you'll hear "enclosure", "box" or "can" used interchangeably to describe the metal housing. When replacing your electrical power panel, you need to know the size of the panel board mounting area because panel boards are wall mounted to conserve space. Panel boards should not be confused with Switchboards which are free-standing units and allow front and rear access if needed.
The NEC, which stands for National Electric Code, publishes requirements for electrical panelboard working areas, with emphasis on worker electrical safety. Learn more about NEC Section 110.26(A).
What Type of NEMA Enclosure Is Required?
The National Electrical Code (NEC) defines panelboards as one or many units in panel enclosures that are wall-mounted and accessible from the front, containing buses, automatic overcurrent devices and in some cases, switches. Here are Panel Board Enclosure Types defined by National Electrical Manufacturers Association (NEMA):
NEMA Type 3R Enclosures for outdoor protection against weather and ice damage
NEMA Type 4X Enclosures to protection against corrosion, dust, moisture, ice
NEMA Type 3R/12 Enclosures protect against circulating dust, falling dirt, and noncorrosive liquids
What Types of Overcurrent Protection Devices Go into Panelboards?
When replacing or upgrading your power panelboard, circuit protection should be top of mind. Circuit protection is needed to guard against overcurrents by automatically or manually disconnecting electrical gear from the voltage source. An overcurrent protection device detects the difference between a small overcurrent and a short circuit. Depending on your application, replacing or maintaining your panel board may call for fuses, fusible disconnect switches or circuit breakers for protection. Let's talk about fuses first.
Fuses in Panelboards are sometimes used because there are so many different types, and they can be more closely matched to specific, sensitive applications (e.g., IT server rooms, clean rooms). Unlike breakers, they're for one-time use and need to be replaced once blown.
Time-delay fuses: Time-delay fuses for motor applications typically allow several times the electrical current for a short time, allowing motors to start-up and build heat without blowing a fuse.
Non-time-delay Fuses: During an overload, heat accumulates in the fuse. So these fuses aren't used in motor circuits having large in-rush currents when a motor starts.
Fusible Disconnect Switches have fuses inside the switch specifically suited to current and voltage. A fused disconnect switch combines a switch to disconnect the circuit and a fuse to shut off the circuit before electrical damage is done.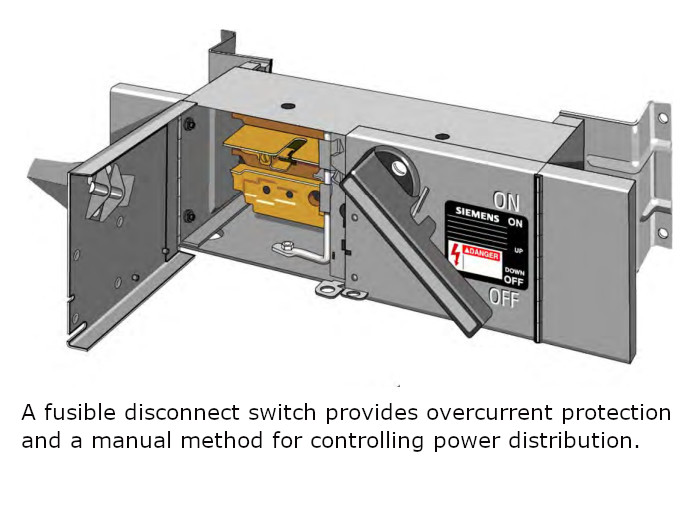 When should Fusible Disconnect Switches be used for circuit protection in power panelboards? Fused disconnect switches make sense for circuits with heavy loads because the fuse makes certain that the circuit gets disconnected quickly in an emergency. Fuses are rated for their ability disconnect quickly under heavy load by what is called their Amps Interrupt Capacity, or AIC Rating. The addition of a fuse to the switch (fusible switch) adds a layer of electrical safety.
Panelboard Circuit Breakers allow forrestoring power quickly. When an overload or short circuit is detected, an electromagnet switches the breaker off. During an overcurrent, the circuit breaker trips, and to restore power, can be flipped back on. Similar to a fusible switch, a circuit breaker can also be used to manually disconnect power. Because there are no fuses, circuit breakers involve less downtime since they don't immediately need to be replaced.
Circuit breakers are good for remote operation with power monitoring and display devices at a maintenance operator workstation. A shunt trip device is an optional circuit breaker accessory that an operator may use to trip the breaker remotely for operator safety or convenience.
Bus Bars, Bus Panels for High Current Power Panel Distribution
Typical load center panelboards for commercial and industrial applications have circuit breakers that bolt on to the bus bars, sometimes called bus panels. A bus bar serves as a conductor and a common connection for multiple circuits. They're made of aluminum or copper. Filler plates are used to cover any electrically charged spaces not filled by a circuit breaker.
Sometimes panelboards have two main circuit breakers or two sets of fuses. When two main circuit breakers or two fusible switches are used in a panelboard, you've got what's called a split busbar configuration. Each bus bar may feed power to different equipment having different power requirements.
To limit voltage differences between parts of the system, some panelboards have an equipment grounding bus mounted inside the enclosure. NEC Article 250 covers panelboard grounding bus grounding and bonding requirements for electrical requirements and how they need to be installed.
Looking for Sales and Service to Replace Your Industrial Panelboard?
Now you should have a basic understanding of what a Power Distribution Panelboard is, what it does and what's inside your electrical box. If you're planning to replace an electrical power distribution panelboard, knowing what's inside your existing panel board enclosure helps you choose the right replacement.
Relectric stocks new and professionally tested panelboard components. Contact one of our sales and service consultants today at 800.497.6255.