National Distribution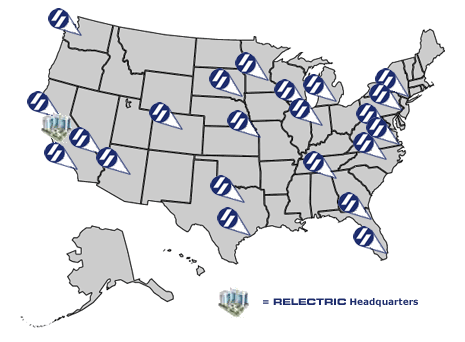 Now shipping from 22 locations nationwide!
While most of orders ship from our headquarters in San Jose, CA, we regularly coordinate shipments with strategic partners in 22 locations nationwide.
We have a track record of successfully coordinating orders through third party vendors, which means if you need something we don't have in stock, not only can we probably find it for you, but also we can work directly with the third party to ensure proper processing and delivery.
Secure Online Ordering

Your personal information is safe with Relectric Supply. We offer secure checkout with the leading encryption technology, Secure Socket Layers (SSL). This technology can be verified by clicking on the GeoTrust image to the left to learn more.
To add an extra layer of security, Relectric utilizes Scan Alert's Hacker Safe technology. Scan Alert is an independent third party that provides government level security auditing for commercial websites. As always, we'll do whatever it takes to maintain your privacy. Click on the Hacker Safe image to the left to learn more.
Avoid Down Time
We ship same day on most orders and due to our location on the West Coast, we can ship much later than most East Coast vendors.
Flexible Payment Options
Open a credit account with Relectric Supply today!
Gain the flexibility of using purchase orders or credit cards.
Receive a consolidated monthly statement of your transactions.
Click here to apply online.
2 Year Warranty
We offer a two year warranty on all RE-Certified Plus items and a one year warranty on all RE-Certified products. Some of our transformers carry up to a 10 year warranty.