Hammond Power Solutions Inc. (HPS) is the industry leader in the design and manufacture of standard and custom magnetic dry-type transformers. Established in 1917, the global company has facilities in the U.S., Canada, Mexico, India and Italy.
With over 100 years of experience, the company database contains over one million transformer designs and offers thousands of standard transformers from 25VA to 5MVA and special designs up to 34MVA. All their products meet UL, ANSI, RoHS, CSA, IEC and NEMA standards.

TYPES OF TRANSFORMERS
Dry-type transformers step-up or step-down voltage, they are also an isolation device. They work with conventional air ventilation and do not require a liquid to cool the electrical core and coils.
Dry-type transformers are static solid-state devices with no moving parts. Under normal operating conditions, they require minimum maintenance and provide years of reliable service.
CSA and UL insulation systems for dry-type transformers are high temperature and environmentally safe. Dry-type transformers are suitable for indoor conditions in most commercial buildings and light manufacturing facilities.
Hammond Power Solutions offers a complete line of dry-type transformers designed to meet various applications.
Industrial Control and General Purpose Enclosed Transformers
An isolation transformer transfers electrical power from an alternating current power source to a powered device, while continuing to isolate one from the other. This often applies when safety is a concern.
A control transformer is a type of isolation transformer that regulates and stabilizes the secondary voltage during inrush overload conditions. Rated for 600 volts or less, it is selected based on the minimum voltage needed to operate the circuit, the total steady state VA, the total inrush VA and the inrush load power factor (usually 40 percent).
The Hammond isolation transformer is built to endure the demanding conditions of both AC and DC variable speed drives. The windings are designed to withstand a 150 percent overcurrent for 60 seconds or 200 percent of the rated load for 30 seconds.
Buck-boost Transformers
Buck–boost transformers are utilized to power low voltage control or lighting circuits, as well as other applications requiring from 12 to 48 volts, consistent with the design's secondaries.
Control transformers with low voltage secondary windings, Buck-Boost transformers offer an economical solution for adjusting slightly above or below normal line voltages. The primary and secondary windings in an autotransformer configuration can be field connected and used for stable voltages only.

REACTORS
Air Core
Designed as a current or voltage limiting device, air core reactors are applied when large currents enter a system that only requires small amounts of power. A telephone system is an example of a very small voltage requirement where the current in a fault condition must be kept to a minimum.
Air-core dry-type reactors, made with an aluminum or copper winding, wound around and supported by an aluminum structure, are often used in electric power transmission and distribution systems for protection and to increase efficiency. With the increased use of semiconductors in electric power systems, the requirements of power inductors have also changed. The use of air-core dry-type reactors is more defuse now due to their linear characteristics and economic advantages over iron-core reactors.
New weatherproof insulation materials and advanced manufacturing technologies permit the use of air-core dry-type reactors at high voltage and power levels. Virtually maintenance-free, they are environmentally-friendly and are also low-risk fire hazards.
Iron Core
Iron core reactors are made with a copper winding, wound around an iron core that has an air gap. They provide the same current or voltage control on a system as the air core reactor and are most often used for smaller applications where the variables need greater or more sensitive control.
Drive Isolation Transformers
Drive Isolation Transformers are designed to supply power for Silicon Control Rectifier variable speed motor drives, utilized when a transformer is required to isolate the incoming line from the motor drive magnetically.
SCR type drives create harmonics that require careful designing to match the rated hp. of each drive system. Windings are designed for an overcurrent of 150 percent for 60 seconds, or 200 percent for 30 seconds and the duty cycle of one start every two hours.
Motor Starting Autotransformers
A motor starting autotransformer is used to reduce the line voltage during the startup phase. Voltage taps provide a choice of starting currents and torques, depending on the load requirements. The autotransformer overcomes the significant limitations of on-line starters, high-starting current and high-starting torque. Motor starting autotransformers are designed to endure an inrush of 25 times the standard current.
Starting a motor at reduced voltage can help reduce the voltage flicker, mechanical stress to gear boxes or belt drive systems and the pressure surges or water hammer in pumping applications.
A complete list of autotransformers, along with all their other transformer products, can be found in the Hammond Transformers Catalog.
Low Voltage General Purpose Transformers
Low voltage and medium voltage general purpose transformers, which do not need any application-specific, specialized features, are typical in industrial, commercial and residential applications. Most general-purpose transformers are used for lighting systems, HVAC and air conditioning systems, and other general appliances. They are commonly single-phase transformers, outfitted with either aluminum or copper wiring, and can be used in both indoor and outdoor applications.
Hammond transformers include low voltage general purpose transformers that are UL listed and CSA certified providing a safe and highly reliable power source.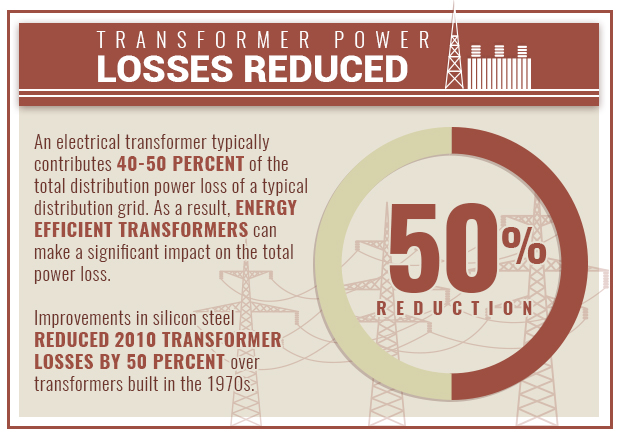 Energy Efficient Transformers
An electrical transformer typically contributes 40-50 percent of the total distribution power loss of a typical distribution grid. As a result, energy efficient transformers can make a significant impact on the total power loss.
Improvements in silicon steel reduced 2010 transformer losses by 50 percent over transformers built in the 1970s. Plus, with today's new magnetic materials higher efficiencies are achievable.
The U.S. Department of Energy mandated new higher energy efficiency levels for distribution transformers effective January 1st, 2016. HPS offers a complete line of DOE 2016 compliant transformers.
All Hammond Power Solutions energy efficient products comply with the CSA C802.2 energy efficiency requirements and meet the DOE TP-1 energy efficiency levels that were in effect from January 1, 2007, to December 31, 2015. HPS energy efficient transformers provide substantial savings in operating costs and have a reduced impact on the environment.
Energy Efficient General-Purpose Transformers
Designed for linear loads, HPS Sentinel® energy efficient general-purpose transformers are ideal for commercial buildings with a variety of general loads.
Energy Efficient K-Factor Transformers
Designed for non-linear loads, the HPS Synergy® energy efficient k-factor transformers tolerate harmonics-generated heat. The transformers reduce or eliminate the effects of harmonics, such as equipment vibration, tripped breakers, overheating, telephone interference and device malfunctions.
Energy Efficient Harmonic Mitigating Transformers
The Hammond Power Solutions Centurion® is an energy efficient and harmonic mitigating transformer that features a zero-sequence flux cancellation technology. It is precisely designed to address the harmonics generated by computer equipment and other non-linear, power electronic loads.
Within its secondary windings, the transformers combine the zero-sequence flux cancellation technology with phase shifting treating 3rd, 5th, 7th, 9th, 15th, 17th and 19th harmonics. Severe non-linear loading conditions are typical of internet-service providers, data centers, call centers, telecom sites, broadcast centers and more.
Encapsulated (Potted) Transformers
Standard Dry-Type Ventilated Transformers are cooled when the surrounding air passes through the windings. The ventilating air must be free of dust, moisture or other potentially damaging corrosive fumes to achieve trouble-free operation and a long-life expectancy. To meet the ambient requirements, standard dry-type ventilated transformers are typically installed in indoor locations, isolated from damaging elements.
However, some applications require the installation of transformers in hazardous surroundings. Encapsulated Potted Transformers are designed for such conditions.
Typical uses include:
Corrosive environments: Petro-Chemical, pulp and paper and steel industries
Damp conditions: pump-houses, mines, food processing, marine and shipboard installations, underground or rooftop service areas
Airborne dust or conductive particles
Hammond Power Solutions offers two complete lines of encapsulated transformers for industrial and commercial environments.
Encapsulated Transformers
The HPS Titan® design is specially designed for harsh environments and hazardous locations containing corrosive contaminants, dangerous gasses or liquids, moisture and dust. The transformer design meets both UL Standard 1604 and ABS Type Approval for the marine and offshore sector.
Encapsulated Transformers for Commercial Use
The HPS FortressTM is an ideal solution for commercial applications. All devices are encapsulated using electrical rated silica sand and resin compounds. The core and coil are entirely enclosed sealing out moisture and any airborne contaminants, thus eliminating corrosion and deterioration.
Mini Power Centers
Hammond Power Solutions pre-wired power centers are ideally for commercial buildings, temporary power at construction sites, industrial locations, test equipment, plant assembly lines and more.
Autotransformers
An auto step down transformer (autotransformer) is an electrical transformer with only a single coil. Autotransformers provide an economical method of adjusting output voltage similar to Buck-Boost transformers. They adjust the supply voltage when isolation from the line is not necessary (local electrical codes permitting).
Available in either a step-up or step-down version, they also meet motor inrush currents demands.

ENERGY EFFICIENT MEDIUM VOLTAGE DISTRIBUTION TRANSFORMERS
Hammond Power Solutions offers energy efficient distribution transformers that meet the DOE 2016 regulations.
The Canadian product offered by Hammond Power Solutions complies with the CSA C802.2 energy efficiency requirements and meets the DOE energy efficiency levels effective from January 1, 2010, to December 31, 2015.
HPS Millennium™ transformers are 5kV class dry-type energy efficient distribution transformers. Their primary use is to step down medium voltage power, 4160V or 2400V primary, to a lower voltage for commercial, institutional or industrial applications.

HPS SENTINEL
Energy Efficient Distribution Transformers
More distribution transformers are used in more electric power systems than any other type, with more than 118 million in service worldwide.
Essential network components that lower electrical voltages to safe and usable levels, they can contribute two to three percent to the total electrical grid power loss. This significant loss makes distribution transformers a logical target for improving grid efficiency.
Recent innovations in materials and manufacturing have made modern products up to 60 percent more efficient than older units. Easy to install, new technology distribution transformers will not contribute to more efficient electrical grids, but will also reduce total CO2 emissions.
The Sentinel product lines (G, K and H) from Hammond Power Solutions meet the latest DOE and NRCan energy efficiency standards, offering significant energy savings, along with social and environmental benefits.
Core and Coil Construction features:
Quality non-aging, cold rolled, silicon steel laminations using state-of-the-art equipment
Accurately cut cores to improve performance
Coated core to prevent the ingress of moisture
Electrically balanced, copper or aluminum conductors balanced to minimize axial forces during short-circuit conditions
Robust interface between core and coils to improve short circuit performance
Standard Type 3R enclosure suitable for indoor or outdoor applications
Higher efficiency means lower operating costs and therefore increased profitability. Lower heat emissions mean lower air conditioning expenses. Standard 10kV BIL rating provides increased reliability and protection against critical equipment failure, including voltage spikes and other line transients.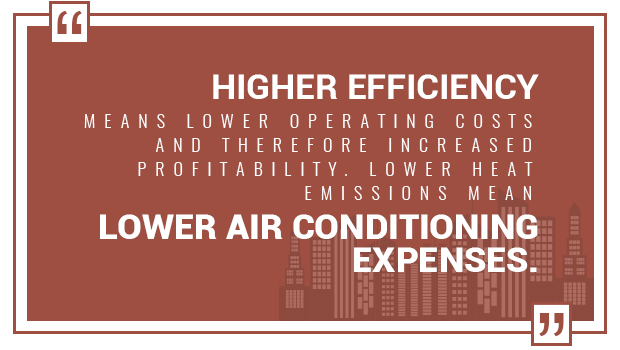 HPS MILLENNIUM – DOE COMPLIANT DRY-TYPE MEDIUM VOLTAGE DISTRIBUTION
The U.S. Department of Energy DOE 10 CFR p431 standards apply to both liquid and dry-type insulated transformers. Compliant transformers offer up to 13 percent reduced energy losses in medium-voltage dry-type transformers. With the new stricter efficiency standards for both low and medium voltage transformers, the DOE estimates a $12.9 Billion savings for consumers and a reduction of 265 million metric tons of CO2 emissions.
Hammond Power Solutions Millennium™ medium voltage distribution transformers are fully compliant with newer DOE standards. Hammon transformers can take many demanding and diverse applications, while minimizing both installation and maintenance costs. The designs feature precision wound coils with copper or aluminum conductors using either barrel or comb wound designs with a full vacuum-pressure impregnation insulation system.
HPS Millennium™ G is suitable for any industrial, commercial or renewable energy application. They withstand a variety of environmental conditions and meet the most challenging duty.

HPS DRY-TYPE MEDIUM VOLTAGE DISTRIBUTION (POWER)
Dry-type medium voltage transformers are essential for the transmission, distribution and utilization of electrical energy. Developments in materials technology, designs and manufacturing methods have contributed to the rapid growth in dry-type medium voltage transformer use throughout North America.
Hammond Power Solutions offers high quality, reliable dry-type medium voltage distribution with three phase ratings up to 34 MVA, 46 kV, 250 kV BIL and single phase to 5 MVA. The newest technology and manufacturing processes contribute to all products.
HPS Transformers are ideal for commercial, industrial, manufacturing or production process application. Power distribution transformers, unit substation transformers, drive and rectifier duty and distribution transformers are available for a variety of environmental conditions.
Applications include indoors, outdoors and any location where airborne contaminants present a risk to electrical equipment.
Hammond Power Solutions has a stellar reputation as the most proficient and broadest manufacturer of dry-type magnetics in the world. Almost every type of application uses their products on every continent and even in outer space.
Hammond engineering database contain designs ranging from the smallest control transformers to the largest dry-type transformers. Hammond customers have come to rely on their expertise for support at the most critical stages of their needs.