Eaton and Cutler-Hammer circuit breaker manufacturers create electrical protection products and solutions for almost every kind of building system. These include single-family/multifamily residential units, transportation/manufacturing facilities, retail, office, educational, and other commercial properties. They can even handle bigger industrial warehouses and buildings.
Cutler-Hammer circuit breakers have been around for decades. They save countless buildings and properties across all real estate sectors from power surges to dangerous overloading situations.
Eaton and Cutler-Hammer's complete offering of medium and low voltage fuses and circuit breakers are each crafted to protect against circuit overloads and short circuits within conductors in all manner of applications, including alternative energy, military situations, mining, industrial and commercial.
Eaton's breakers are utilized in switchboards, control panels/panelboards, motor control centers, individual enclosures, bus duct parts, and combination starter units. Essentially any source where there can be more than one primary source of electric power. Like all other circuit breakers, Eaton/Cutler-Hammer's breakers are usually sourced from a feed when turned on that is attached to the terminals situated closest to a handle.
Whether your company is redeveloping a legacy electric system or gifting a property an entirely new system from the ground up, Eaton and Cutler-Hammer's circuit breakers are compatible with almost all your electrical needs. Some companies specializing in electric parts sell both older, discontinued parts in addition to newer ones. Here, we take a closer look at one branch of Eaton's breakers.
The Series C K-Frame Circuit Breakers
One of the company's latest manufactured circuit breaker series is the Series C K-Frame Circuit Breaker. These circuit breakers are identifiable primarily by their molded case. Each is thermal magnetic and comes built with a KD frame.
The FDMP and HFDMP iterations of the Series C family circuit breakers come with a choice of both fixed and adjustable options for class protection of the motor. This choice is in direct contrast to the JGMP and LGMP circuit breakers, which come only with adjustable versions of the motor class protection.
This version of the C K-Frame circuit breakers comes with a maximum amperage of 400 amps, 600 volts of maximum voltage, three poles and a short circuit cap of 35 kA. The C K-Frame KD3400 specifically runs at 400 amps at 40 degrees Celsius, and contains an interrupting rating of 65 kiloamps at 240 vac, 35 kiloampere at 480 vac, 25 kA at 600 vac, 10 kA at 250 vac, 65 kA at 240 vac, 40 kA at 380 or 415 vac and 10 kA at 250 VDC (IEc).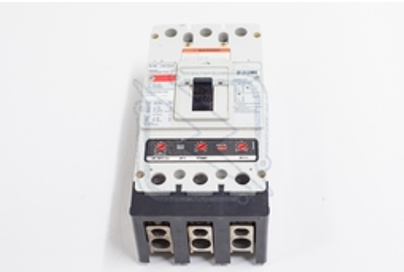 These breakers have a standard terminal copper, aluminum standard pressure line terminal and a standard pressure load terminal. The breaker comes in dimensions of 5.5 inch in width x 4.063 inch in depth x 10.125 inch in height.
The C K-Frame HKD3400.
The HKD C K-Frame circuit breaker arrives with the same maximum amperage and max voltage as the KD3400, at 400 and 600 respectively. It also contains three poles but contains a short circuit cap of 65 kA. This breaker also arrives with a molded case and is thermal magnetic, and comes in its HKD frame. It runs at 400 amps at 40 degrees Celsius but has an interrupting rating of 100 kiloampere at 240 vac.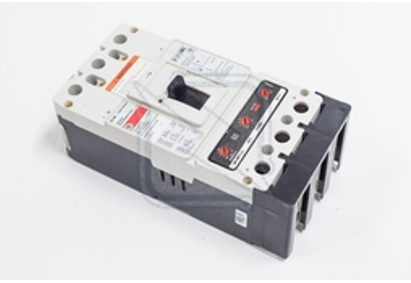 The breaker further has an interrupting rating of 65kA@40VAC, 3kA@600VAC, 22kA@250VDC, 100kA@240VAC, 65kA@380/415VAC, and 22kA@250VDC (IEC). It also contains a terminal copper and aluminum standard pressure line terminal and a standard pressure load terminal. Its size dimensions are the same as the KD3400, at 5.5-inch x 4.063-inch x 10.125 inch.
The C K-Frame Series of Eaton Cutler-Hammer circuit breakers are some of the best circuit breakers in the business. If you want one that is going to do the job, these are the circuit breakers for you. Whether you're an electrical contractor, a construction/architecture lead, a residential single-family homeowner or multifamily landlord, or even a manufacturer specializing in industrial products and production.
Do you have questions about what C-Series circuit breaker you need? Need to know how to fix an electric problem? Are you just starting in the business? I would advise you to call or consult an experienced technician. This will ensure you're purchasing the correct circuit breakers for your building's system and the job at hand.