There are many types of testing equipment that make a circuit breaker testing facility successful. If you had to pick your top 3 that you cannot live without, what would they be?
We have picked our top 3 pieces of testing equipment below. See how yours compare!
Primary Injection Test Set
A primary injection test set will test the full function of a circuit breaker. Through primary injection testing you will be able to prove the communication between the current transformers and the trip unit, through the trip unit to the actuator, and from the actuator to the opening mechanical mechanisms within the circuit breaker.
Insulation Resistance Test Set
An insulation resistance test set will prove the circuit breaker is free of any tracking from phase-to-phase, phase-to-ground, and across the open contacts of the circuit breaker.
Digital Low Resistance Ohmmeter (DLRO)
A DLRO will take a resistance measurement across the closed contacts. The lower the resistance will allow for a better flow of current and will not create heat which will deteriorate the internal components within the circuit breaker.
Here is a handy dandy infographic for your convenience. Feel free to share it to other circuit breaker facilities!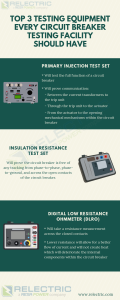 >> Click to Download Infographic <<
Interested in our top 3 must-have testing equipment for Electricians? Check it out here!