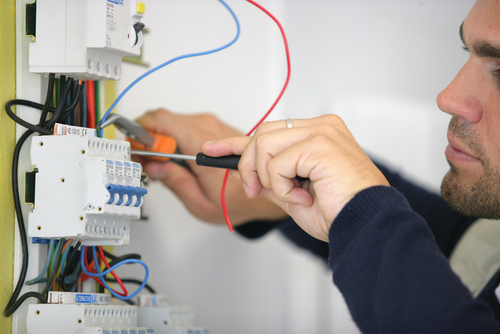 How to Replace a Circuit Breaker
Typically circuit breakers will not need to be replaced. Unlike a fuse, a circuit breaker is designed to reset. On occasion a circuit breaker may break or malfunction resulting in the need replace it with a new breaker. Most residential homes have a main circuit breaker and separate branch circuit breakers that connect to different area in the home.
If your circuit breaker requires replacement…
You will need to follow the steps below on how to replace a circuit breaker.
In order to replace a common household circuit breaker that is housed in a regular 2-pole main breaker with branch circuit compartments, you would first turn off all of the branch circuit breakers and then the main circuit breaker. Never assume the breakers are off; you need to check for voltage on adjacent breakers to make sure the breaker panel is dead.
Next, take off the panel cover. This will give you access to branch circuit breakers but not the main breaker compartment. Do not attempt to remove the cover to the main breaker; this should only be accessed by a certified electrician. You can replace the circuit breaker by just removing the panel cover.
Once you have removed the cover then you can disconnect the wire from the faulty breaker and pull it out of the way. Now, carefully pry the defective circuit breaker out of its position. Take note of how the breaker fits in the panel and locks into position so that you can put the new circuit breaker in correctly. Upside down and sideways positions typically do not work. Next, insert the new circuit breaker.
While you have the circuit panel open, check the other branch circuits to make sure they are properly in place and tighten any loose parts. Put the panel cover back on and make sure all the branch circuit switches are in the "off" position. Proceed to turn on the main circuit breaker and then flip on each individual branch breaker separately. Test the circuits to make sure they are working properly and stay set.
If the replacement circuit is working right then you are finished. If you still have a circuit problem then you may want to check the electrical devices associated with the circuit or consult a professional for further assistance.
Replacement new and obsolete breakers can be purchased online at https://www.relectric.com.
Essential Lighting
Safety is a must when working with any type of electrical devices and outlets. Circuit breaker boxes and panels house a lot of electricity so safety precautions should be taken any time you are working in or around the circuit breaker box. Before you try to replace a circuit breaker, you will need to have the right tools for the job.
The essentials include adequate lighting as a part of your electrical equipment. An insulated flashlight will work, but holding a flashlight in one hand and try to remove a circuit breaker with the other hand can be difficult especially for amateurs. The best lighting option is freestanding lighting that includes a power supply; with the power off, you won't be able to use any outlets. You can purchase these lights at many hardware stores or electrical supply stores.
When you are working with electricity it is extremely important to see all of the wires and objects associated with the area that you are working in. One touch of a live wire is all it takes for a fatal accident. Make sure you have the right gear to do the job correctly.
Replacing Circuit Breakers
The physical act of replacing a circuit breaker is generally not complicated if you remember to follow a few procedures and take the proper safety precautions. However, purchasing a circuit breaker may not be as easy as you think. When you replace a circuit breaker in your circuit breaker panel it is not as simple as buying the same size of circuit breaker or even the same brand. The circuit breaker will not work unless it is replaced with the exact same breaker (make and model).
In order to purchase the right kind of circuit breaker replacement, you'll need to get the model number and other information off of the old circuit breaker or check to see if the information is located inside the breaker panel box. Always remember to disconnect power when opening the breaker box or working inside it. The breaker box itself should not pose as a electrocution risk, but you can never be too cautious. The wires inside the circuit breaker are "live," so you should not attempt to remove the breaker if you are not sure that the wires are dead.
Electrocution can be fatal, so if you are not sure how to change the circuit breaker then you should consult a professional before proceeding.
Residential Wiring: Basics and Safety
Homeowners who are attempting a electrical wiring project or electrical repair on their own need to be familiar with and follow the safety rules of working with electricity. Here a some basics about electrical wires and procedures.
Black and red wires are typically "hot" meaning they have electrical current. They carry the electricity from the circuit breaker to the appliance or electrical fixture.
White wires are electrical return wires. The electricity will flow through the appliance or fixture back to the circuit breaker.
Electrical current should not be running through the ground wire unless there is a short circuit and if this is the case then the breaker will flip killing the electrical current immediately. The ground wire is typically bare and attaches to the appliance frames.
The only place where white and ground wires connect is at the bus bar on the circuit panel.
Becoming familiar with the wiring basics and educating yourself about the inner workings of your electrical system will help you stay safe and prevent miswiring and other electrical related mistakes. Before you attempt circuit breaker replacement you need to know what each wire does and make sure you have them connected properly.
Circuit breaker replacement, electrical wiring, circuit breaker
Tools for Circuit Breaker Replacement and Installation
Adding circuit breakers and installing or replacing electrical circuit breakers can be done correctly by using the proper tools. Insulated tools are a must when working with electrical equipment and wires. Here are some tools that you will need when replacing circuit breakers or installing new circuit breakers in your circuit breaker panel.
A new circuit breaker is a must. Make sure that you have the proper brand and size in order fit properly and work right.
Plywood or a rubber mat — stand on this when working with electrical equipment
Safety goggles — important for eye protection
Insulated flashlight — extra lighting
Other insulated tools (a screwdriver, a hammer and insulated wire strippers) — strip off the insulation around the cable connectors
Cable connectors — connect your circuit breaker to the main panel
Voltage tester — determine whether or not the new circuit breaker is functioning properly, and make sure there are no live wires before starting your project
With the right tools and electrical knowledge a homeowner can successfully install a new circuit breaker or replace a broken breaker in the breaker box. If you need to purchase additional circuit breakers or other electrical parts, you can visit https://www.relectric.com for a wide selection of products.
When Should I Replace the Circuit Breakers in my Home?
Typically circuit breakers do not need to be replaced unless they are worn out, broken or not functioning properly. You will need to replace a circuit breaker if it is hot to touch, has a burning smell or you can see visual damage such as black or burned material or frayed wires.
Quality circuit breakers should last a long time. The circuit breaker device doesn't necessarily cause every electrical problem or short circuit. The trouble could be coming from somewhere else, so you should exhaust all other options before blaming the circuit breaker for every problem that occurs.
If you are not sure what is causing the circuit breaker to trip often and you are not able to pinpoint the problem then it is a good idea to consult a professional for assistance.
Circuit Breaker Replacement: Bus Bar Problems
A simple replacement does not always solve circuit breaker trouble. If a circuit breaker is malfunctioning, the problem may be in other parts of the electrical panel. When the circuit breaker's connection to the bus bar is arcing then the bus bar may be damaged as well. The bus bar is the main power terminal where the circuit breakers are attached.
If the bus bar is damaged then the problem will not be solved by just a circuit breaker replacement because the bus bar will continue to cause arcing trouble with the new breaker. A permanent fix in this situation is to fix the bus bar.
Circuit Breaker Replacement: Is it Necessary?
Circuit breakers do not break often. If you are having trouble in the electrical system of your home then you need to test your circuit breaker before you assume it is broken. A multimeter tester will test for voltage and amps.
A circuit breaker can still have hot wires or live current even when there is trouble with a certain wire. Circuit breakers provide protection against forceful currents. Shorts and other circuit problems are typically not linked to the circuit breaker unit so you will need to look elsewhere to solve that kind of problem.
If you are looking for replacement breakers, you can visit https://www.relectric.com for a large selection of brand name and obsolete circuit breakers. Circuit breakers of all sizes and brands are in stock.
Circuit Breaker Safety
If you blow a fuse or a circuit breaker breaks, don't just replace it and think it is fixed. Try to find out what caused the problem and fix everything associated with the trouble. Always replace a circuit breaker or fuse with the same size as the original. If you are upgrading to a larger size with more amps then you may need to rewire the entire breaker box to support the increase in power. You should avoid using high-amperage appliances such as irons, hair dryers and other heat producing appliances in the same circuit. Many appliances running at once in the same location can easily overload the electrical circuit.
Do not exceed the wattage limit on light bulbs or appliances. If an appliance continues to blow a fuse or flip the circuit breaker then it should be repaired or replaced immediately. An electrical short in an appliance cord can be dangerous to everyone in the home.
Use safety precautions when repairing or replacing any type of electrical equipment such as fuses, circuit breakers, cords, wires, etc. If you are not knowledgeable about the process and procedure of electrical repair, you should consult a professional. Don't try to fake it — you'll probably end up regretting it if you do.
Circuit Breakers and Fuses
Circuit breakers are common in newer homes. Older homes typically have fuse boxes. Circuit breakers and fuses have the same job, but function a little differently. Circuit breakers protect the electrical system by cutting off electricity as soon as the load gets to be too much. Fuses will blow if the maximum electrical load is exceeded.
The main advantage to circuit breakers is that they can be reset and circuit breaker replacement is almost never necessary. A fuse has to be replaced each time it blows because of the way fuses are designed. In a fuse, electrical current runs across a soft metal wire. The fuse wire is designed so that any load over the maximum will cause it to overheat and melt. When the wire melts, electricity can no longer run across it and the circuit is broken. Fuses will not fail you as long as they are sized correctly for the circuit.
Today fuses are becoming obsolete and being replaced with circuit breakers, but if you move into a house with a fuse box don't be alarmed; you are still in good hands with the circuit protection of the fuse.