What is mounting hardware?
A hardware kit, "link kit" or "finger kit", is necessary to mount circuit breakers into most panelboards. The hardware kit makes the electrical connection between the circuit breaker and the vertical bus. Most hardware kits include everything that is needed to mount the circuit breaker safely into the specified panel including brackets to secure the circuit breaker and device plates to cover the live components once installed.
Finding a custom solution
Need hardware for a custom application or smaller regional panel manufacturer? We can help! RESA Power has provided hundreds of custom fabricated hardware kits for specialized applications and many of these kits can be completed within days, not weeks. Contact us with your panel information to get started.
I-Line Panelboards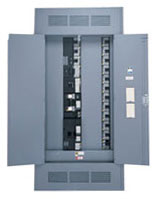 While most panelboards and switchboards require hardware there are some designs which do not. One popular such design is Square D's series of I-Line panelboards. These panelboards use a "plug-in" design for branch devices rated up to 1200A and 600V.
Many facilities across the country installs this unique design from past decades and now. It has some great benefits including ease of installation and backwards compatibility across multiple vintages and generations making it simple to bring new technology to a dated panel.
Contact us today to find the right circuit breaker for your Square D I-Line panelboard!
Common Panel Manufacturers
RESA Power stocks hardware kits for hundreds of different breaker / panel combinations. To find the correct kit contact our sales team 855.842.6699