Counterfeit electrical supplies have been around for years, but the problem came into focus in the last decade when a 7-year old boy was fatally electrocuted while unplugging his Game Boy charger in 2007 while on a family trip in Thailand. The charger was counterfeit, and was the cause of this young boy's loss of life.
The frightening thing is that a charger is something familiar to most people. Who doesn't have a charger of some kind, whether video game, smartphone, or computer device? As unfortunate as this death was, it did show the world how extremely dangerous counterfeit electrical equipment can be, and is.
Prior to this incident, not much was done to prevent these supplies from being on the market. Now, a number of companies have spoken out about the immense danger of using counterfeit electrical equipment. We would like to share more about the topic of counterfeit electrical supplies and what you can do to avoid them.
WHAT EXACTLY ARE COUNTERFEIT ELECTRICAL SUPPLIES?
—————————————————-
Aside from being a knockoff of a product distributed by a reputable brand, counterfeit electrical supplies are downright dangerous. They can cause fires and damage to property. In the worst case scenario, they can also cause death.

Examples of counterfeit electrical equipment include switches, circuit breakers, relays, timers, cable, fuses and lighting. These supplies are manufactured with second-rate materials, and safety mechanisms such as integral parts are not included at all in the manufacturing of these supplies.

The Anti-Counterfeiting Trade Agreement, with the goal of fighting counterfeit electrical supplies, was set in 2011 and signed by the United States, Australia, Canada, Korea, Japan, New Zealand, Morocco, and Singapore. Organizations that fight counterfeit goods also include the National Association of Electrical Manufacturers (NEMA), the National Electrical Contractors Association (NECA), the National Association of Electrical Distributors (NAED), and Underwriters Laboratories Inc. (UL).
What Can I Do to Avoid Counterfeit Electrical Equipment?
—————————————————-
DEVELOP LASTING RELATIONSHIPS WITH SUPPLIERS THAT YOU TRUST
—————————————————————————————
This is perhaps the simplest way to avoid counterfeit supplies and vet counterfeit products. Suppliers that you work with should have liability insurance and be sound financially.
If a supplier is financially sound, it will probably have invested in liability insurance. Of course, things aren't necessarily so all the time, but if a company crosses its t's and dots its i's, then it will probably invest in a type of insurance that protects their company from unexpected accidents such as counterfeit products.

By them having liability insurance, you will also be better off. Any repercussions from accidents such as this aren't passed solely onto your company. Also, how do suppliers protect their brand? Do they invest in sometimes costly R&D to ensure the quality of their own products? It's a good idea to do some research yourself beforehand on how companies protect and develop their brands before deciding to partner with them. Selecting a trusted distributor is the best thing you can do to cut down on acquiring counterfeit electrical supplies.
AVOID BUYING PRODUCTS THROUGH RESELLERS ON THE STREET, FROM THE INTERNET, OR AT DOLLAR STORES.
—————————————————————————————
Don't purchase electrical equipment from resellers, because you most likely won't be able to track the source if there's a problem. Resellers will choose the route of the internet or auctions, for example.
Choose a dealer who is authorized to sell, and, if something goes wrong, they can track and trace the source. A person selling a counterfeit product over the internet might not be able to track the source; and once you've made the purchase, there is no guarantee that you'll be able to get in touch with this person again.

So, don't work with unauthorized distributors. One problem link in the chain will void everything. All it takes is one faulty cable to lead to a lawsuit. And what will an unauthorized distributor say? "We had no idea." You will be the one with more on the line, and not them, because you are an authorized authority who decided to take a shortcut.
Low prices can be alluring, but telling. So, if something is priced lower than it should be, take that as a warning sign that maybe a shortcut has been taken in manufacturing this product.
TRAIN EMPLOYEES HOW TO SPOT THESE FAULTY MATERIALS
—————————————————————————————
Managers should stay current with products that have counterfeit items on the market.

LEARN HOW TO SPOT COUNTERFEIT SUPPLIES.
———————————————————————–
Misspellings on the packaging or labeling is one sign. Another way to tell is if a UL label or another form of certification is missing. Has the package been tampered with or opened? Is the extension cord less weighted than normal? If there's a problem, don't hesitate to just return it and get a refund.

CONNECT WITH OTHER AUTHORITIES ON THE SUBJECT.
———————————————————————–
Counterfeits Can Kill is one group that has links to the different organizations that support the initiative. The Consumer Product Safety Commission also updates a list of product recalls because of safety issues so that contractors can stay abreast of news related to the industry and avoid problem products.

MAKE SURE PRODUCTS ARE CERTIFIED WITH A UL LABEL.
————————————————————————
UL works with the U.S. Customers and Border Protection, the U.S. Chamber of Commerce, the U.S. Patent and Trademark Office, and the Department of Commerce. Counterfeiters liked the UL logo's trusted brand and decided to copy them. However, after consistently updating their logo to make it more difficult to copy, a credit card authenticator is now used to scan supplies entering the United States and catch any counterfeit items. It's estimated that 98% of counterfeit items are from China.
PAY THE KNOWLEDGE FORWARD.
——————————————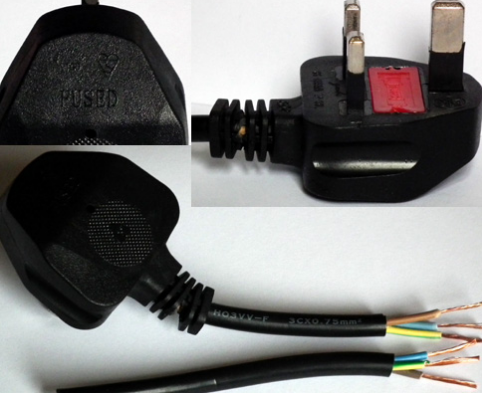 Write articles about your company's personal experience with counterfeit goods and what you did to rectify the issue, or magazine editors for industry publications could include supplemental information. During annual events, one of the panels could have to do with this. Teach with webinars. Create a website. What else can you do?
Sometimes counterfeit items can really resemble those that aren't counterfeit, so it can be difficult to spot. Yet there are still ways that you can tell the differences between the two. Here are some more ways to tell if a plug is counterfeit:
WHAT TO DO IF YOUR COMPANY COMES ACROSS COUNTERFEIT ELECTRICAL EQUIPMENT
———————————————————————————————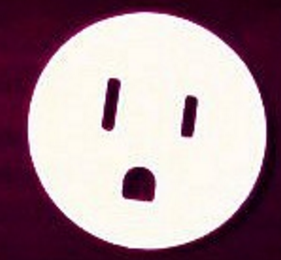 If your company has legal counsel, you should go after manufacturers of counterfeit goods. Consider bringing a suit against them, so that during the discovery process, all parties involved, from the seller to the wholesaler that the products were purchased from, become liable.
All it takes is for a company to be prosecuted, for everyone to recognize the consequences of selling these goods, and the problem will start to be eradicated. Also, if you are a larger manufacturer, consider working in some way with border protection agencies. Siemens Industry Inc. is one large manufacturer that does this.
HOW TO TELL IF YOU HAVE A COUNTERFEIT PLUG
—————————————————————-
The counterfeit items can look a lot like those which are not counterfeit, so it is hard to tell them apart, yet there are still ways that you can tell the differences between the two. Here are some more ways to tell if a plug is counterfeit:
1. The earth pin has a partial sleeve. The problem with this is that an authentic earth pin has to be solid brass, and nothing else. The only exception is when the pin is used with a non-earth device, and, in this case, it will be plastic.
2. A counterfeit fuse will have no sand filling and could have a loose end cap. Real fuses don't—they have markings that make it clear that it is a real fuse, and are filled with sand. This is extremely dangerous because a counterfeit fuse will run the risk of exploding.
3. A counterfeit plug will be too flexible and use a sub-standard material. In this case, it could overheat and cause a fire.
4. Pins aren't the correct size or will have varying sizes. The problem with this is that this inaccuracy will lead to difficulties with contact. The plug socket could become damaged in the process, too.
5. If a plug doesn't have a fuse, or if the fuse isn't connected, the plug might be counterfeit.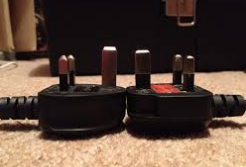 HOW TO TELL IF A FUSE IS COUNTERFEIT
————————————————
1. No sand filler
2. Bent fuse element
3. Loose
4. Metallic-end caps aren't secure
5. Color is off—ceramic body material is more white than usual
6. Low weight of less than 2.2 grams
Questions Regarding Counterfeit Electrical Supplies
—————————————————-
What do I do if I purchase a counterfeit item?
Return it and request a refund. Also, file a complaint with the Better Business Bureau.
All that should matter is that it works. What's so bad about counterfeit electrical equipment?
While you might have saved money on your plug, you've more than likely skimped on safety. We're not saying that all counterfeit items are dangerous, but there is a higher likelihood that it will be because it has cut corners in terms of manufacturing.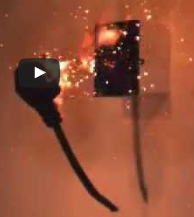 A counterfeit plug, for example, could overheat, or explode. It could contain elements that are exposed and could therefore electrocute you. It's dangerous, and in an effort to protect yourself from any resulting life-endangering scenarios, you should spend the extra money to ensure safety. When you purchase a product, you should be sure that not only does the product work well, but that, above all, it is safe. You shouldn't skimp on quality, and safety is a huge component of quality in our eyes.
If counterfeit plugs are so dangerous, why do people sell them?
Why do people sell phony prescription pills? This is another insidious reality, and, really, the only reason people do it is because it will make a profit.
Ensuring that a person's life is well-cared for is the least of these company's worries, and it is this mindset that demeans the efforts of professionals in our industry who are working to get the best product out there to our consumers.
We are people, too. We have families, too, and want to ensure that our products represent quality, and a respect for all of the lives out there, including ours.
IN SHORT, BEFORE YOU PLUG SOMETHING INTO AN OUTLET, CHECK IT TO MAKE SURE IT'S LEGITIMATE.
A Few More Rules When Using Plugs
1. Don't use a plug with a loose cover.
2. Don't use plugs that are too hot.
3. Don't use cracked plugs.
4. Make sure that the live "L" and neutral "N" pins are insulated to keep from coming into contact with the electrical current again.
5. If you can see the inner insulation outside of the plug, return it immediately, and ask for a refund. Otherwise, you'll be in danger of being exposed to the electrical current that should be covered by this.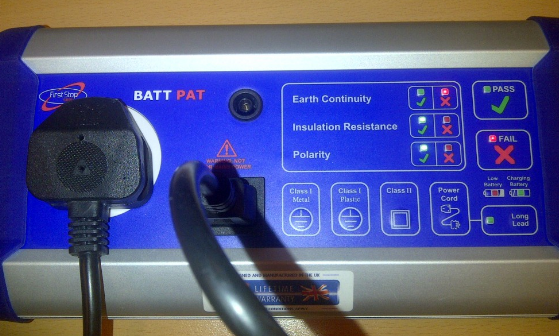 The next time you see a deal on an extension cord or piece of electrical equipment, think twice, because it could be counterfeit. With this information, you'll have a good base to check for signs.