Deploying portable electrical power stations, or "skids" is critical for electrical power restoration efforts in Hawaii's current and past wildfire issues. The fire that occurred this month in Lahaina, Hawaii, is not the first time wildfires have ravaged Hawaii. The Puu Waawaa Forest Reserve fire ("Pu'u Wa'awa'a) fire on the "Big Island" in 2014 is another example of using temporary power skids in Hawaii's challenging landscape.
Like this month's fire, the fire spread rapidly with strong winds and dry conditions, threatened homes, infrastructure, and natural resources in the area.

In response to the worsening situation, emergency responders turned to temporary power skids to address the critical need for power restoration and support during firefighting efforts.
Deploying Temporary Electrical Power Skids for Firefighting and Emergency Response
Local emergency management authorities worked with utility companies and other groups to deploy electric portable power in critical locations for the Pu'u Wa'awa'a Fire. Restoring power was a main goal in fire-affected areas, ensuring emergency services, evacuation centers and communication networks remained operational.
Then and now, this month's wildfire in Lahaina, a beach resort city of about 13,000 people on northwestern Maui, temporary power skids have been strategically positioned near evacuation centers, emergency response command posts and other important infrastructure.
Power Restoration: Once deployed, the temporary power skids are providing a consistent source of power for critical services. Electricity is being made available to emergency services. This includes firefighters and medical professionals for communication devices, illumination and other critical instruments. Power for lights, HVAC systems and electronic device charging stations are installed in evacuation centers.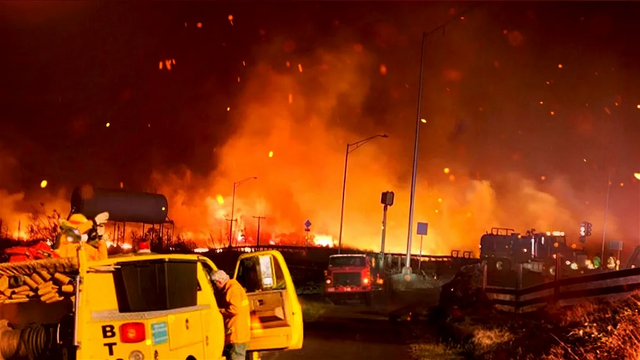 Supporting Firefighting Efforts: The availability of power from the temporary skids is helping the effectiveness of firefighting efforts. Communication between teams is maintained, allowing for real-time updates and coordination. Firefighting equipment such as pumps and tools are powered, aiding in the containment of the fire.
The two examples — Pu'u Wa'awa'a and Lahaina — show temporary power skids' role in disaster response scenarios. Their rapid deployment, strategic positioning, and ability to provide essential power support contributes to their overall effectiveness.
Electrical Power Skids for Firefighting in Remote Locations: a Temporary Solution
Also known as temporary electrical skids, temporary electrical power provides a quick and flexible answer for electricity in affected areas. When wildfires destroy power lines and infrastructure, temporary electrical skids fill the void until normal power supply can be restored.
Temporary power skids are self-contained housing generators, distribution panels and other critical components for generating and distributing electricity. They're built for quick deployment and can be carried to isolated and difficult-to-reach sites, making them ideal in Hawaii's varied terrain. They're mobile and can be strategically positioned in high-risk wildfire areas to offer quick power support. Temporary electrical skids power communication devices, allowing firefighters to share real-time information and tactics while fighting the fire.
Deployment Strategy, Challenges of Temporary Electrical Skids in Hawaii Wildfires Power Restoration
Effective deployment requires an approach that addresses several obstacles specific to Hawaii's terrain and disaster-prone environment. Once high-risk zones have been identified, the next challenge is making sure of the accessibility and logistical capability of installing temporary electrical skids to such regions. The isolated and diverse geography of Hawaii needs thoughtful planning.
Positioning Temporary Electrical Skids: pre-positioning of temporary electrical skids in high-risk wildfire zones is an important part of an effective deployment plan. When tragedy strikes, this proactive method provides for faster reaction times and instant power support.

Establishing Access Routes: road conditions need to be taken into account, and potential deployment sites must be identified. Helicopter transport may be required for difficult-to-reach regions, underlining the importance of inter-agency collaboration.
Scheduled Maintenance and Refueling: dependability of temporary electrical skids is dependent on regular maintenance and refueling schedules. It is critical to develop a routine maintenance plan that includes generator checks, fuel quality evaluations, and equipment service. To guarantee that skids are ready for deployment, agencies must work with maintenance teams and suppliers. Setting up efficient refueling plans also guarantees that skids do not run out of fuel at critical moments.
7 Electrical Products on a Firefighting Power Station Skid
A portable electric power skid used by firefighters in emergency response scenarios typically contains a range of essential electrical equipment to support their operations. Here are 7 key pieces of electrical equipment commonly found on emergency response power skids:
Portable Generator: is the heart of the power skid, producing electrical power from fuel (often diesel or gasoline). It is the primary source of power for all connected equipment.
Distribution Panel: is in charge of receiving generated power from the generator and distributing it to various outlets and circuits. It serves as a hub for connecting many devices.
Power Outlets: allow firefighters to directly plug in various tools and gadgets. Depending on the equipment, these outlets can be ordinary electrical sockets (110V or 220V) or specialized connectors.
Lighting systems, such as floodlights or spotlights, are critical for illuminating the work area at night or in low-light settings. These lights increase visibility and safety for firefighters.

Portable Power instruments: A power skid may also have outlets or connectors for specific firefighting instruments like chainsaws, ventilation fans, thermal imaging cameras, and power drills.
2-way radios, satellite phones: Firefighters rely significantly on communication technologies such as two-way radios, satellite phones and data transmission technology. These gadgets allow for efficient team coordination and real-time information exchange between team members and command centers.
Charging Stations: Charging stations with a variety of USB ports, electrical outlets and charging cables allow firemen to charge their communication devices, phones, tablets, and other equipment.
Portable Electric Power Skids Adapt to the Disaster Response Needs
These pieces of electrical equipment work together to form a self-contained power source that provides fire personnel with the resources they need to respond to crises successfully. The power skid's flexibility allows it to be adjusted to firefighting needs and adapt to different scenarios.

Deploying temporary electrical power equipment, particularly temporary electrical skids in the aftermath of Hawaii's wildfires, calls for a well-designed deployment strategy including pre-positioning skids, collaboration between agencies and addressing logistical challenges. By identifying high-risk wildfire zones and coordinating emergency services, utility companies, and local government, emergency responders can be more effective.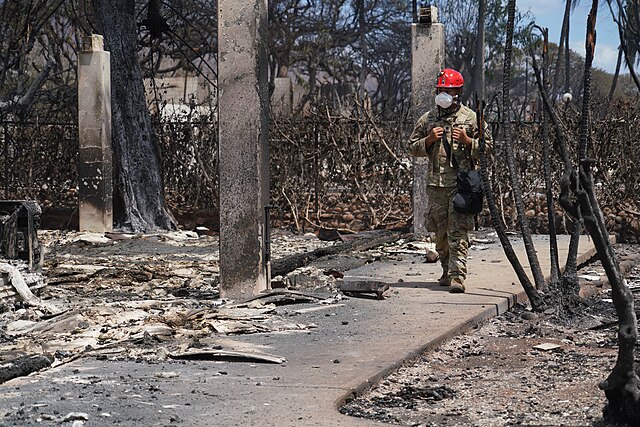 Relectric Temporary Power Products: Customizable and Turnkey
Relectric offers a variety of industrial and commercial temporary power solutions that can be fully customized to meet the needs of your project or jobsite.
For simplicity, all Mobile Temporary Power Skids are manufactured with standardized components, with each skid created from our tested, name-brand components such as a fusible primary disconnect switch, transformer, main breaker panelboard and circuit breakers. All with a 12-month warranty. These mobile power stations can be customized to add breakers, receptacles, and other job-specific accessories.
Because they're designed for simple relocation within the work area, Relectric portable generators and mobile skids help you save time, space, and money. Power distribution boxes, for example, can serve to streamline portable power distribution across the worksite or deliver more power straight to the load.
Need support for customizing an electrical power skid? Give us a call: 800.497.6255