Holiday Light Displays
Electricity is the fuel that drives these holiday light extravaganzas. The ones on our list have over two million light bulbs, hundreds of light displays and many draw power bills exceeding $1,000 a night.
Some of these light displays require months of preparation and turn to the professionals providing electrical equipment, while in-house teams and electricians put other displays together. The purpose of every one of these over-the-top displays is to provide a good time to its visitors.
Let's look at 22 of the biggest and the best.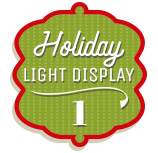 When estate visitors take this two-mile walk through this serene 65-acre garden, they'll enjoy the majestic display which oozes of holiday spirit. With four million lights set into more than 1,100 set pieces and 15 scenes, the pageantry of this presentation lives up to its name.
The staff at Bellingrath Estate produces the show, which debuted in 1995. The production runs yearlong for the opening in November. All displays are made and maintained in-house, including the annual replacement of 400 thousand light bulbs. Bellingrath is proud to state the entire event is entirely homegrown, built and presented by their staff.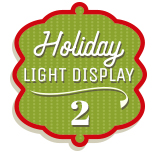 Situated in Goodwin Park, the show is a two-mile-long drive-through featuring more than one million colorful lights with over 200 displays. The park-wide celebration captures the spirit of the season and delights the carloads of visitors.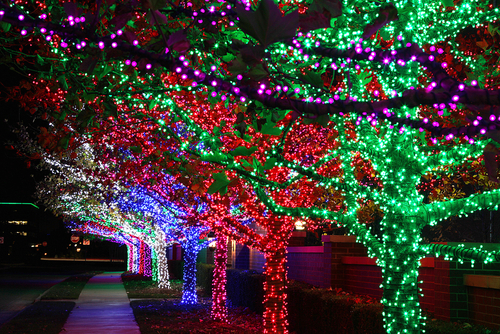 The drive-through display, created in 1999, was given to the Channel 3 Kids Camp, a charity benefitting nearly 3,000 children in the region. It is now managed entirely by the foundation staff, who work throughout the year to prepare for the opening in November. Hundreds of volunteers assist by unpacking and attaching bulbs to the displays from early fall to early winter.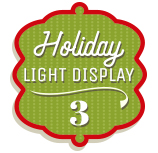 Keith Shaw and his family host this spectacular light show, with over 160,000 lights and one of the most impressive pixel Christmas trees in the world, all in the gardens of their home. It's genuine commitment to an electrifying cause.
Keith explains he and his family spend countless hours throughout the year to make the event a success. Repeated on an hourly basis, visitors watch from the street outside the front of his home. Keith doesn't charge an entry fee but asks instead that all visitors make a small donation, 100% of which is given to local charities, including the food bank.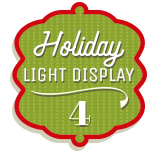 Energy Flow
–
Rachel Carson Bridge, Pittsburgh, Pennsylvania
Initially, a temporary wind-powered light display on Rachel Carson Bridge is so popular it has been extended into 2018.
The display consists of over 27,000 LED lights strung from the vertical support cables of the bridge. They are powered by wind turbines and plugged into a small weather station attached to the bridge. The lights display a real-time visualization of the wind speed and direction captured by the weather station.
Environmental artist Andra Polli and Ron Gdovic from Windstax, a Pittsburgh-based wind turbine manufacturer, are the masterminds behind this remarkable display.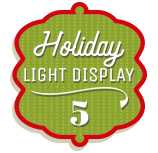 The Austin Trail of Lights takes almost 15,000 man-hours to assemble by an in-house team and has over two million lights. This spectacular Christmas celebration has been the talk of Austinites for more than 50 years.

The trail comprises more than 40 displays and features local choirs, dance troupes and snacks at the halfway point. The local tradition is to spin underneath the 155-foot Zilker Tree, which was first lit in 1967.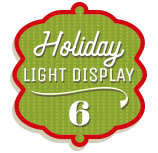 The Albuquerque BioPark and Botanic Garden are lit up each year with more than 500 light displays, depicting the zoo's resident animals and cultural icons. Wire-sculpted prehistoric animals, hot air balloons and even a barrel full of monkeys are adorned with festive lights and put on display. In total, over 90,000 zip ties and two million lights create the eye-catching event attended by thousands every year.
Welder/sculptor Joey Trujillo leads the effort to create the light show that takes nearly three months to prepare annually. The entire effort is planned, designed and assembled by an in-house, six-man team.
Originally planned as a fundraiser for the BioPark, the event has been a tradition since 1997. The behind-the-scenes read is interesting and provides good insight into the satisfaction the team gets from its creation and the physical pain experienced in putting it together.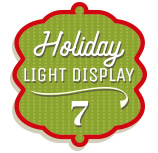 Situated at Sandy Point State Park, the event is a two-mile drive along the shores of Chesapeake Bay. More than 60 light displays pave your way, many animated for extra fun and interest. Scenes include fairy tales, a North Pole Village and activities ranging from a scavenger hunt around the display to a visit from Santa.
Volunteers unload the displays from trailers transported from local storage locations and begin the erection and fitting process. Applied Lighting, the power distributor for Lights on the Bay, assists in connecting the displays and ground lines and the overall electrical management.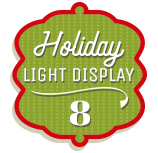 Over 700 enchanting light displays sprawl across three miles in this festival attraction. Visitors can view the sites from a car, or enjoy a stroll through the attractions. The holiday train provides the closest views in a charming locomotive. The festival is one of the top national holiday events and is the only U.S. event in Moscow's festivals of festivals.
With over two million lights running up a nightly electricity bill of more than $1,000, it's hard to believe that everything is completely done in-house, but it is.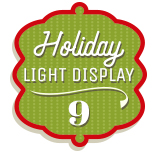 The festival runs through the Living Desert Zoo and Gardens, a preserve in Palm Desert, and features over a million lights. Attractions include light tunnels, displays and pathways explored on foot.
It is one of many events that support the preservation efforts by local authorities in the area. Management and trained volunteers assemble the festival in-house.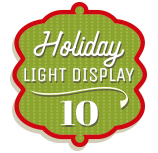 Situated on Monument Circle in downtown Indianapolis, the festival comprises the lighting of nearly 5,000 lights hung from the Indiana Soldiers and Sailors monument. It commences the Friday after Thanksgiving and runs through early January, allowing millions of spectators to view the event.
Quality Connection and the International Brotherhood of Electric Workers (IBEW) present the event. IBEW have hung the display since its inception. It takes 200 volunteers from the organization to hang the 4,784 lights involved and arrange the six miles of electrical wire.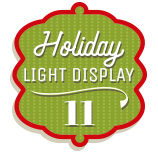 New York's Rockefeller Center Christmas Tree has some competition from the homeowners of Dyker Heights in Brooklyn, who take pride in the Christmas lights they individually display in their private residences.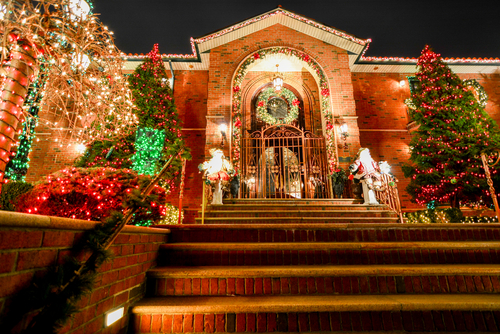 An unspoken competition between homeowners produces professional displays covering both houses and front lawns. Many of these presentations cost into the thousands of dollars. Homeowners start preparing well in advance of the Christmas season to make sure their shows are better than next door's.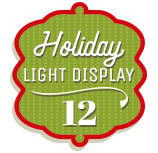 This display is indeed a fantasy with almost eight million lights on display in a woodland setting. It's nearly four times bigger than most entries on our top 22 list.
The team at Callaway Gardens manages this huge operation where the show is staged. There are 32 miles of cable with 12 million cable ties that tie it all together. Additionally, 3,900 man-hours is necessary to run it, including 1,780 to maintain the lights and the rest to take it all down at the end. During the off-season, it's all stored in a 6,500-foot warehouse, waiting to start over again.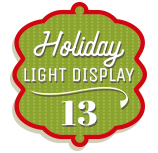 A wooded trail roughly two miles long, with 600 static and animated light displays, makes up this fun-filled spectacle viewed from the comfort of your car. The extravaganza is both breathtaking and complex.
The staff at Hershey Entertainment & Resorts tackles this intricate weave of cables and lights every year. Twelve volunteers make up the team and take two months to complete the setup, assisted by Herb & Herb electricians in Pennbrook, who physically lay the power lines.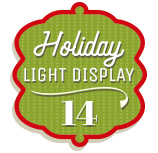 Gardens Aglow
–
Coastal Main Botanical Gardens, Maine
Thousands of lights strung through the central gardens and buildings of Boothbay Maine comprise this one-of-a-kind light show.
The setup of the presentation involves the stringing of 360,000 lights across trees, shrubs and buildings in coastal Maine. Managed by the staff at Coastal Maine Botanical Gardens, it transforms the winter trees and environment into a wonderland.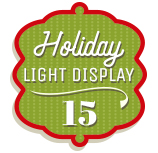 Situated at the Las Vegas Speedway, this holiday festival is a drive-through, either in your car or on a trailer. Adjoining roads feature a 15-minute drive through light tunnels and displays. It's a much slower pace than what usually occurs at the venue, but equally enjoyable.
Winterland Inc of Marion, IN. produces the display of millions of LED lights and operates over the Christmas season.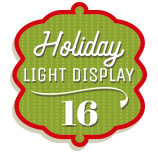 Over 3.5 million lights strung across the mill, nearby gorges, riverbanks and trees make for a spectacular Christmas display. The highlight is a waterfall of lights over 100 feet tall.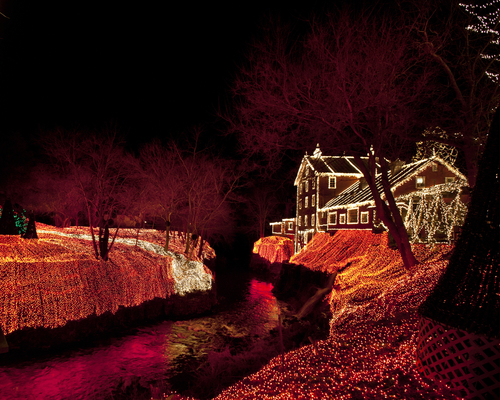 Mill owner Anthony Satariano, his family and mill staff, put up the light decorations themselves, working all year long to bring the display to life. They build new displays and repair and maintain others during the summer. Remarkably, the family's labor of love has grown from a small private exhibition that attracted passing cars to what it is today.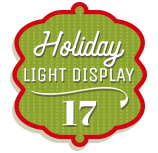 Visitors stroll the Naper museum grounds, taking in a display of magical lights featuring holiday-themed figures, lighted trees, candy canes and a massive 22-foot. Holiday Christmas tree. Naperville Rotary Club organizes this free event while accepting donations for local charities.
Fitzgerald Electrical, based in Big Rock, Illinois, consulted on the installation and laid all the groundwork and connections for the event.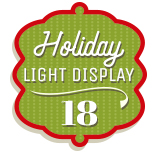 Bentley Tour of Lights is America's largest free walk-under lights display. There are four million lights across Bayfront Park on the shores of Lake Superior. They cover an area of nearly 20 acres, making it a festival that is not only popular, but also a huge undertaking.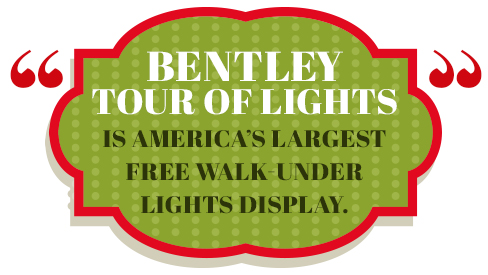 The show termed "Bentleyville," a reference to Dr. Seuss's hometown, Whoville, was founded by Nathan Bentley and formerly occupied the grounds of his house. It is now in Bayfront Park since 2008 where Nathan continues to administer it with his team. Today, the Bentleyville team needs 600 volunteers to set up the light show, which takes 10 weeks to complete.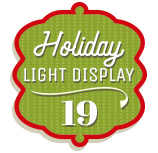 Over 5,500 candles and more than one million sparkling lights decorate the gardens in this annual display. The highlight of the attraction is a large 80-foot Fir tree, decorated with over 60,000 lights.
The staff at Brookgreen Gardens attends to the display in-house, working throughout the year in preparation. It takes one week to install the Fir tree with its lights, and miles of electrical cabling to complete the entire installation.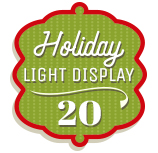 Situated in Adventureland Altoona, the display is theme-park based and benefits the Make-A-Wish Foundation. The light show is a drive-through with more than 90 displays sponsored by local companies and organizations. Given it's in a theme park, there is a lot more to see than just the lights, although these alone attract over 5000 cars during its season, contributing $10 per car to Make-A-Wish.
Adventureland, a family owned business, proudly manages the display with in-house electrical specialists and advisors.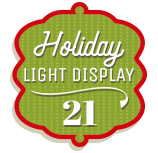 Louisville's Mega Cavern becomes a spectacular light show once a year over the Christmas season. Also known as Funderground, it boasts 17 miles of drive-through passages and light displays, all completely underground. The spectacle takes about 30 minutes to complete in your car as you pass 850 lit-up characters and over 2 million points of light.
There is an onsite management for the light shows and many other attractions in the colossal cavern (including zip lines and an underground mountain bike part). All lights are LED and eco-friendly.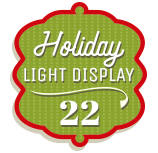 You can see these stunning lights in Wilton, Maine, from inside your car as you drive through the event. Over nine wire trees, 6.5-footwreath, huge star on a roof, Christmas tree and more are on display. More than 17,000 lights and LEDs synchronizes to music. This makes the animated show not only a visual experience but a foot-tapping one as well.
Preparation for the display takes almost a full year, commencing just after the previous year's Christmas sales. This exhibition is by the Hilton Family with support from Interfix Communications.
Summary
Our 22-electrifying holiday light displays all reach a size that's mesmerizing and requires weeks of elaborate preparation by dedicated staff.
Many of these displays are worked on tirelessly throughout the year and use miles of electrical cord, switches, breakers, fuses and other electrical components needed for the tough job of keeping the electricity flowing to these electrifying holiday displays!