Here is a quick guide to Eaton HFD 65k Circuit Breakers.
These Eaton / Cutler Hammer "HFD 65k" Circuit Breakers are part of the Series C, F-Frame type circuit breakers. Eaton / Cutler Hammer panelboards type PRL3 and type PRL4 as well as POW-R-LINE C switchboards use these breakers as branch devices. HFD 65k breakers are commonly available in 1P, 2P and 3P configurations.
Select from the table below to see purchase options for the Amperage / Pole combination you need.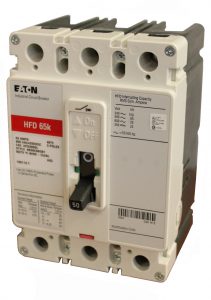 Contact us any time for specific questions regarding Eaton circuit breakers. Have other questions regarding parts you need for your project / job? We can help with that too!