Reading Time: 2 minutes

---
Hey there Contractors and fellow Service Professionals!
Today we are covering the Allen Bradley 1769-L32E Series A PLC. This is a CompactLogix EtherNet Processor with 750 KB user memory.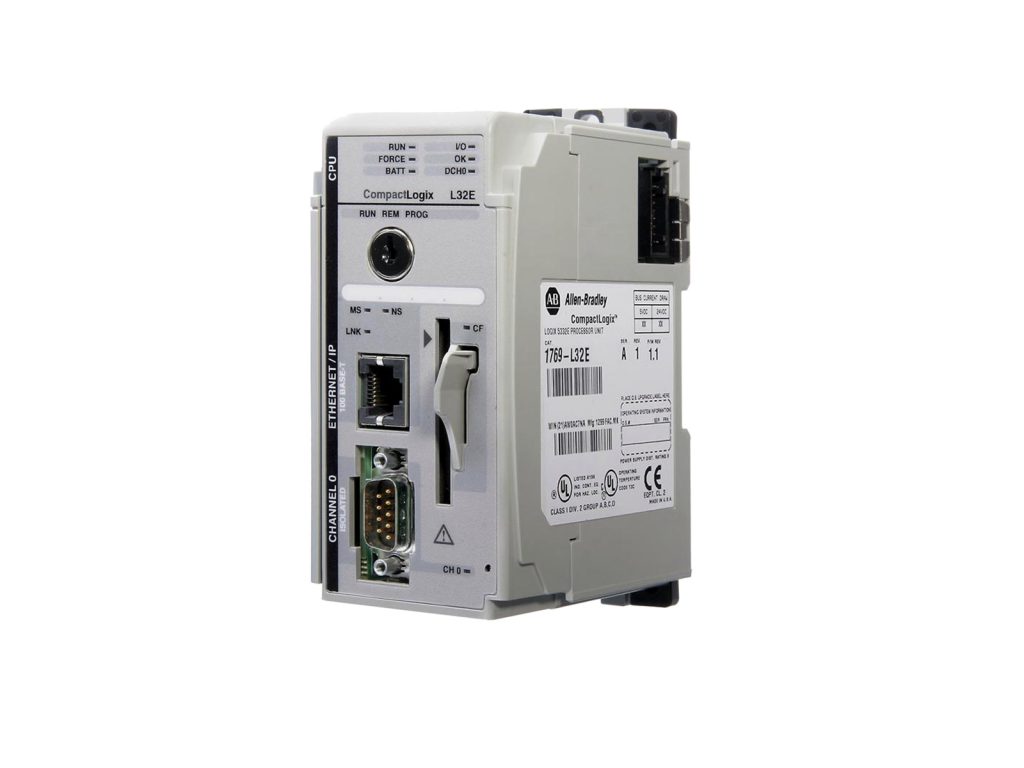 The CompactLogix controller is always the leftmost module in the system. The controller must be within four modules of the system power supply. This 1769-L32E controller supports as many as 16 I/O modules. It can use a maximum of 3 I/O banks with 2 expansion cables. Each I/O bank requires its own power supply.
________________________________________
Take a look at the Specs below…
Allen Bradley 1769-L32E Series A
User Memory
750 KB
Controller Tasks
6
Optional Compact Flash
64 MB / 128 MB
Communication Ports
EtherNet/IP & RS-232 (DF1 or ASCII)
Communication Options
EtherNet/IP, ControlNet, DeviceNet
Serial port
ASCII, DF1 Full/Half Duplex, DF1 Radio Modem, DH-485, Modbus via Logic
Backplane Current
660 mA at 5 VDC
90 mA at 24 VDC
Power Dissipation
4.74 W
Module Expansion
16 I/O Modules (max number of modules)
Power Supply Distance Rating
4 Modules

________________________________________
CompactLogix controllers only support nonvolatile storage through CompactFlash removable media. They also support the 1784-CF128 Industrial CompactFlash memory cards for nonvolatile memory. Allen Bradley 1769-L32E can save and restore user applications to CompactFlash memory. It can store user data (for instance, a recipe) to the CompactFlash card during runtime. This feature is supported on 1769-L32E controllers with serial numbers starting with SS0QZ000, or greater.
Allen Bradley 1769-L32E CompactLogix controllers are available for applications from small scale equipment to entire production lines.
________________________________________
Need one for your project?
Head on over to our >> online store here
Need help looking for the right item for your setup?
Call one of our knowledgeable team members at (800) 497-6225 ext. 1
Stay tuned for the next PLC item on our line up >> Allen Bradley 1785-L40E/E
PS: If you are curious to know more in depth about PLCs or any other items we have, then drop us a line here and we will get you more information on them.
PPS: Don't want to miss our posts and promotions? Click the Subscribe button and we'll let you know first! Don't worry, we will never share your information.
Catch you on the next post! 🙂
Enjoy this article? Don't forget to like and share!