Power plants are often the economic backbone of the small towns in which they operate. Most are in river or lake towns with populations dependent on the payroll and tax revenue these companies produce. Not just their electricity production. These plants also support all of the vendors who provide them with electrical supplies, industrial supplies and construction materials.
These small towns that are big energy producers help power not only their own community but also many others. Donations to civic and social organizations from small towns with big power annually number in the millions of dollars per plant. they build parks and trails and playgrounds built for communities. Most plants develop educational programs and promote the area's tourism. They dedicate funding and thousands of acres for wildlife preserves that further aid the environment.
Here's a spotlight on 25 of the small towns powering America's energy grid.

St. Francisville, Louisiana
The River Bend Nuclear Power Station provides 675 jobs for the area and surrounding parishes, and is very involved with the community, promoting tourism and recreation and creating after school activities. Frequent volunteer activities are planned in the area, such as parish-wide beautification and an annual Earth Day festival. The electric power plant helps Louisiana cut 12 million metric tons of carbon dioxide, 14,000 short tons of nitrogen oxide and 20 short tons of sulfur dioxide annually.

Burlington, Kansas
Burlington's Wolf Creek Generating Station has provided clean energy to Kansas and Missouri residents for more than 30 years. It contributes $165 million annually to the local economy in the form of payroll and taxes. It has one of the lowest production costs of any town in the United States.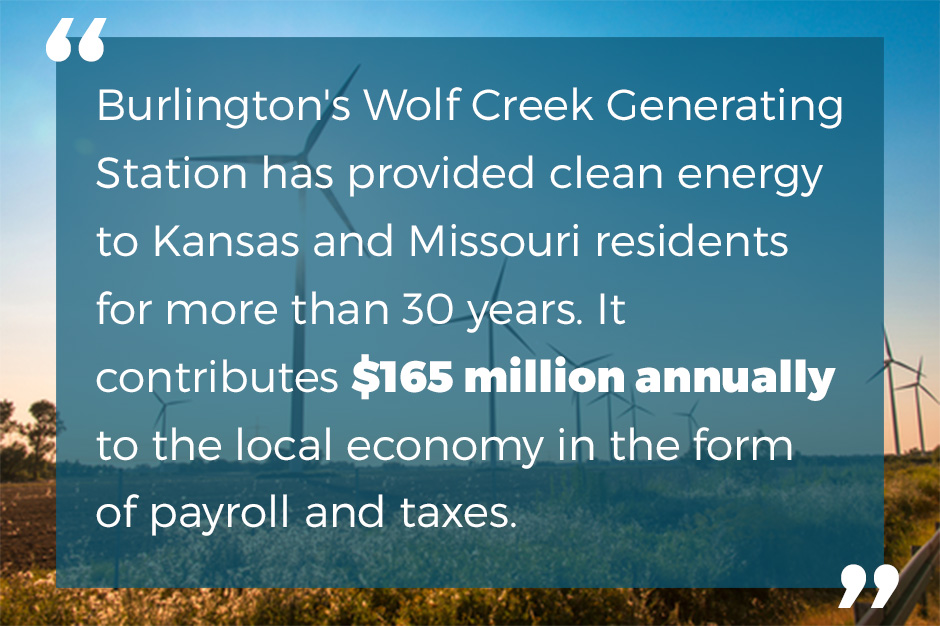 Wolf Creek takes immense pride in its civic engagement, from creating safety plans for local shelters to public education and participation in local events. Of special note are its environmental stewardship programs to improve the area surrounding the plant through safe practices and innovation, with a focus on wildlife.

Rhea County, Tennessee
With 4,000 employees at the Watts Bar nuclear plant just outside of Chattanooga, almost one-third of the area's labor force is employed here. With the increased tax revenue brought in from the new reactor built in 2014, the area has seen an economic boom and was able to build a new high school with a technical career education wing. Over one million homes can be powered by this plant, and in just one year, the area developed $5.2 billion in new capital investment.

Turkey Point, Florida
In 2013, they added 500 megawatts of clean power generation without expanding the footprint, which was the production equivalent of adding another power plant to the area. The plant has a wildlife preserve, including a crocodile monitoring program that aided in removing the crocodile from the endangered species list.
A study found that for every dollar the plant produced, it generated $1.43 for the local economy. It's also one of the area's largest employers and participates with several local civic organizations.

Susquehanna, Pennsylvania
The Susquehanna plant provides work for over 1,300 people, with incomes about 30% higher than other local workers. Susquehanna's power plant is known to have a low production cost, keeping power bills affordable for its customers.
It has been able to provide tax revenue as high as $135 million and donates 200,000 work hours annually to volunteer causes, while managing a 1,200-acre environmental preserve. They also provide educational programming for children and are actively engaged within the community.

Surry, Virginia
The Surry station provides almost 1,000 jobs with an average salary of $80,000. There are plans in development for the plant's owner to donate to local Native American tribes and contribute to several local historical restoration projects. The plant is currently developing a trail and expanding a local wildlife management area.

Juliette, Georgia
The Robert Scherer plant was named plant of the year in 2016 and pays $7 million in taxes to the area annually. As the largest coal-fired plant in the nation, it's also the local United Way's biggest donor. Four hundred locals are employed, and nearly $7 million in taxes are paid back into the economy. It was named Plant of the Year in 2017 for improvements it made to safety and other areas.

Bay City, Texas
Every dollar of production at the South Texas plant puts $1.91 back into the economy. It pays $358 million in taxes annually and is one of the area's largest employers. More than 12,000 acres of the power plant property is a wildlife preserve, and the plant is very active in the Bay City community.
They produce several charity events annually and participate in many others, including events for the United Way and American Cancer Society. They also participate widely in educational incentives, including training teachers and students in the environment and nuclear energy.

New Hill, North Carolina
The Shearon Harris power plant is 20 miles outside of the state capital and is one of five power plants in the state, producing a third of the state's electricity. It supports 2,000 jobs in the region, and the plant organizes thousands of hours of volunteer service annually. It also constructed Harris Lake, which serves as an important wildlife habitat in the area.

Soddy-Daisy, Tennessee
Sequoyah Power Plant provides over 1,000 jobs in the rural area and supports several civic organizations. They do strong educational outreach with schools and teachers, managing reserves around the plant for wildlife preservation. They pay $352 million in taxes annually. The power plant here is one of the only employers in the area, and workers average much higher than the rest of the area.

Seabrook, New Hampshire
Seabrook pays $110 million in annual taxes, and for every dollar put into the plant, $3.43 is produced, one of the highest profit margins in the industry. The plant has exemplary education programs and operates a science and nature center, while maintaining a trail and wildlife habitat. They put in substantial volunteer hours and donations to local civic organizations.

Benton County, Indiana
This power plant is unlike most others in that it's a wind farm. The Fowler Ridge Wind Farmproduces enough electricity for about 47,000 homes. The plant has created over 400 jobs with nine permanent positions.
Amazon Web Services has paired up with the owners of the farm in efforts to create more renewable energy based resources. While not a traditional power plant and with production far lower than larger traditional models, it's innovative in that it's waste-free and renewable.
It provides an economic assist for the community with lower power bills and a model for the rest of the nation to study, with lower waste, less noise and no eyesore. Better yet, while traditional plants need a body of water nearby, these types of plants can economically aid towns without marine access.

Salem, New Jersey
The Salem Nuclear Generating Station employs 2,000 people and pays out about $100,000 per year for each employee for payroll and benefits, with income levels about 60% higher than the rest of the county. The plant leads the industry in environmental stewardship, having turned the Delaware Estuary into the nation's largest protected wetland. The staff restored a public park that mostly serves children in public housing, and the plant provided seed funding for the area's first industrial park.
In addition to sponsorships and donations to various charities in the area, the plant awards scholarships annually and sponsors local science and math competitions, such as the Salem County Robotics Competition.

Ontario, New York
The R.E. Ginna Nuclear Power Plant works directly in its community by partnering with the Boys and Girls Club to develop programs in math and science, and providing scholarships to graduating high school students. Environmentally, the plant located on Lake Ontario provides a habitat for wildlife and maintains nesting boxes for bluebirds, while also providing educational programming for students and teachers. Every year their employees give thousands of volunteer hours to the community through Scouting programs, as emergency medical providers, as firefighters and many others.

Cordova, Illinois
The Quad Cities Nuclear Generating Station provides more than 4,000 jobs and $260 million in taxes annually. The station houses the only private fish hatchery on the Mississippi River, in partnership with Southern Illinois University.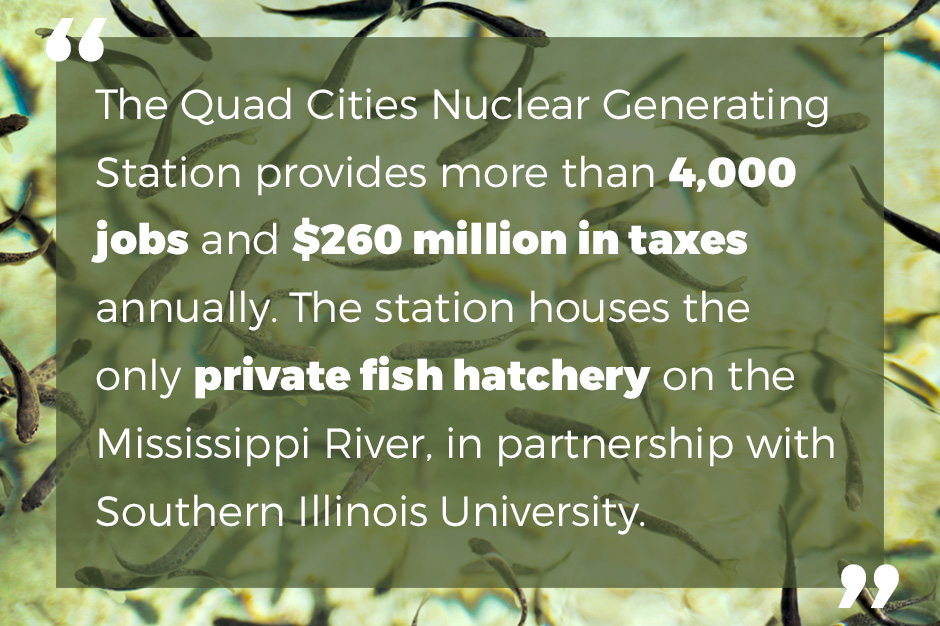 They have a community summer reading program in which more than 500 local children participate. At Quad Cities, employees can volunteer for their favorite civic organizations on company time, and employees who volunteer a certain number of hours earn grants for the organization of their choosing.

Red Wing, Minnesota
Prairie Island supports 1,200 jobs in the progressive town of Red Wing and provides 56% of the tax base. The power plant works within schools to teach about nuclear energy and the environment. They also provide financial support for local organizations and scholarships for graduating students. The town of Red Wing serves as a regional hub for the smaller surrounding communities.

Two Rivers, Wisconsin
Point Beach is responsible for powering over 20% of Wisconsin homes. Wisconsin residents use over 15% more electricity than the average American due to winter heating. Most Wisconsin residents spend 5% less than other Americans. This is because Point Beach has worked hard to keep up their maintenance, which has allowed prices to stay low and steady. This is better for the community and environment.
They actively work in wildlife conservation on Lake Michigan while providing almost 700 jobs averaging salaries just under $100,000, with taxes contributed annually of $6.8 million.

Plymouth, Massachusetts
Pilgrim Nuclear Power Station provides $300,000 annually to charities and civic organizations, which mostly goes to environmental, educational and elder services in the local areas. They own 1,600 acres of forest land reserve in the area. They contribute annual grants to The National Marine Life Center, the New England Wildlife Center, Manomet Center for Conservation Sciences and Plymouth Plantation.

North Perry, Ohio
Perry Nuclear Power Plant was the 100th nuclear power plant to come online in the U.S. and now employs 720 people and contributes $14 million annually in taxes. They maintain an 1100-acre wildlife sanctuary with rare and endangered species.

Peach Bottom Township, Pennsylvania
Nine hundred workers with average annual salaries of $100,000 are supported here. The plant is very active in the community with an extensive list of charities supported and events sponsored.

Tonopah, Arizona
Palo Verde Nuclear Generating Station provides over 3,900 jobs, both in and out of the plant. More than 2,300 of them work at the plant and earn 13% higher than the average local salary. Palo Verde is the largest employer in their part of Southwest Valley. In 2002, they donated almost $460,000 to charities and over 50,000 volunteer hours at local events. It also has a low production cost, keeping it affordable for their customers.

Seneca, South Carolina
The Oconee Nuclear Station employs 2,000 people and is one of the largest donors to local schools and civic organizations. Its wildlife protection area is one of the largest in the area.

Limerick, Pennsylvania
Limerick employees make up the largest group of workers in the area. They donate regularly to the community. They have a large preservation area and provide educational programs in science and nuclear power in the community.

Dothan, Alabama
The Farley Nuclear Plant employs 900 people. Their land management program with bluebird nesting boxes is one of the best in the country.

Avila Beach, California
Diablo Canyon Power Plant donates over 30,000 volunteer hours and $23 million annually. They add over 3,000 jobs to their local community. It's the area's largest private sector employer and pays double the average local salary. They provide many of the emergency safety systems in their local area. In addition, they donate to a nearby Office of Emergency Services.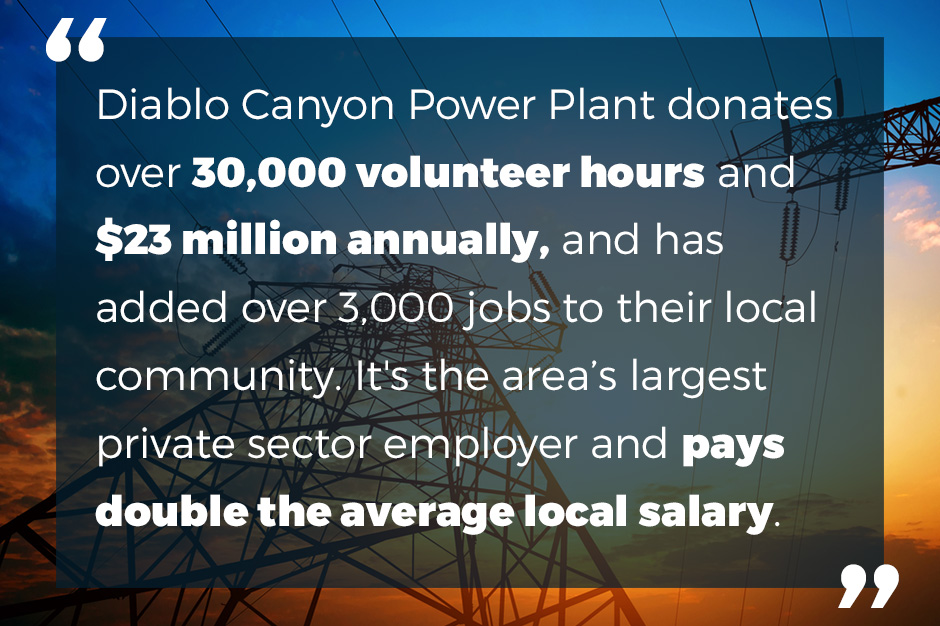 DCPP is a low burden on its county public services. They provide most of their own security and all their water, roads and sewers. Almost 13,000 acres of land has been preserved there and it's open to the public for trail use.
Conclusion
These 25 small American towns with large local power plants benefit by providing electricity outside their community. They help with the city and its residents' economic security. These power plants serve as important customers to electrical distribution and control equipment suppliers.
The plants are one of the largest electricity suppliers in the region and the largest employers in the area. They provide opportunities for education and civic development that would not otherwise be affordable.