History in the Making (Over)
What does it take to turn a sleepy, ramshackle set of buildings into a thriving commercial hub? Quite a lot, apparently. All throughout the world, downtown has been the name oftentimes given to the most vibrant, bustling part of any city, whether large or small.
But for the very reason of their bustle, they are often in desperate need of renovation. As with everything else, there is a wrong way and a right way to do commercial renovation. Here are 20 standout examples of how to build thriving historic downtown districts.

Buffalo, New York
The city of Buffalo in New York has seen a slew of recent redevelopment projects in its historic downtown area. While residential development has been the most common, there are new hotels, plenty of new office space and even a hospital.
Work on the much-awaited One Seneca Tower renovation will commence in 2017, and the Trico Complex will see changes to make it reusable. The rate of conversion of historic buildings has been so fast, in fact, that developers may soon be looking elsewhere in Buffalo to develop projects, as they run out of downtown spaces.

Los Angeles, California
The Fashion District in L.A. is notable, among other things, for piloting the first Business Improvement District Program (BID). For the past 20 years, under the leadership of the Fashion District BID, the area has become a major source of commercial and social activity for the whole downtown area.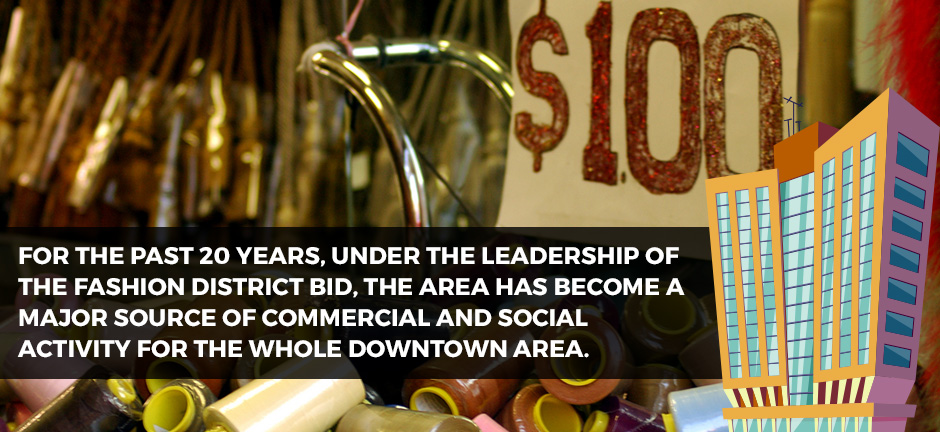 The BID went from just 18 blocks to 100 in 20 years, featuring warehouses, design centers and vendors for major global brands such as American Apparel. With L.A. constantly struggling with homelessness and rising house prices, the contributions of the Fashion district are needed now more than ever. According to the head of the BID, it is all about culture, cohesion and relationships.

Santa Ana, California
The downtown area of Santa Ana was first registered on the National Register of Historic Places in 1984. Many of the historic buildings are in the Art Deco style, and the area is now surrounded by artist colonies. The commercial aspects of the downtown include new retail and restaurant spaces. The downtown area also now hosts several notable events every year.
In more recent years, there have been attempts to attract even more investment by beautifying the area. Among these attempts are the conversion of historic buildings into creative spaces, the reuse of parking lots for residential construction and other means to attract largely "creative" tech-industry types.

Frankfort, Kentucky
A newer entrant in the game of historic downtown commercial renovation, Frankfort is home to quite a few historical buildings. Unfortunately, like the many other cities in the U.S. with aging infrastructure, Frankfort was at one point suffering from a lack of funding to reinvent its struggling downtown.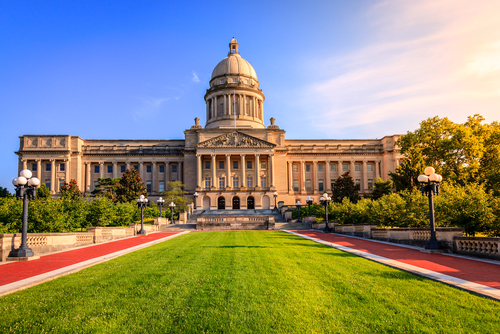 The EPA, through its Brownfields Program, provided funding to give Frankfort's historic downtown a makeover. Along with the city's own Downtown Reinvestment Grant, the federal program should help see major changes in the look and feel of downtown Frankfort over the next few years.

Dahlonega, Georgia
Another entry in the National Register, Dahlonega's downtown public square is the perfect example of how you can infuse new life into a district without destroying all the old buildings. Along the shaded sidewalks, there are numerous shops and restaurants built into the area's 19th-century buildings. But the re-use of old buildings is not easy. Much of it requires electrical retrofitting and replacing obsolete electrical parts.
With its chic, almost European, feel and boundless activity, this downtown combines the charm of the old with the excitement of the new. Fine dining, live music and numerous festivals are only some of the things you will find there. There is even a museum dedicated to gold.

Chehalis, Washington
Another downtown that managed to keep much of its rustic charm can be located in Chehalis, in the western part of Washington State. The area not only has a well-preserved historic downtown, but features not one, not two, but three historic districts. Surrounded by forests and farmland, the scenic downtown is a go-to for local filmmakers.
Several buildings downtown have been restored or revamped in some way, and the trend has spilled over into areas not historically considered part of downtown, such as the St. Helen's Inn. Though small and quaint, the former "Maple Leaf City" is well-captured by its phrase "Where heart and history shape our future."

Richmond, Virginia
In terms of sheer investment value, downtown Richmond is among the best historic downtown commercial renovation projects. There are over a billion dollars going into this downtown, much of it to the area around the Virginia Commonwealth University campuses. These include the Learning Center, Medical Center and the area around the Children's Hospital of Richmond.
There are several historic buildings under renovation, and a biotech park was also on the list of new construction. Richmonders hope that this activity will help realize the residential and commercial potential of their beloved downtown.

Cleveland, Ohio
Renovation of the Gateway District in Cleveland began in the 1990s and included a number of sports facilities, such as the Quicken Loans Arena and Progressive Field. Both these spaces are connected to the central rail system and to the Tower City building. Formerly a produce market, the Gateway area is just one of several historic areas in downtown Cleveland.
In addition to new restaurants, clubs and retail stores, the area also boasts the first ever indoor shopping mall in the U.S., the Cleveland Arcade. The storefronts sit under apartments and loft condominiums where many of the city's up-and-coming reside. The many reinvestments made in the downtown area in the '90s are still seeing ripple effects today.

Lynchburg, Virginia
Among the most celebrated downtown renovations on this list is the redevelopment of downtown Lynchburg. Through the help of the city's Office of Economic Development, businesses have been incentivized to move downtown, where they can help revitalize existing buildings or build new ones. Notably, part of the budget that the state General Assembly put forward for redevelopment went to environmental mitigation.
Lynchburg is also a recipient of a grant from the EPA's Brownfields Program. Much of the money is going into assessing existing infrastructure for development. More than 4,000 acres of space have been revitalized in the area since the mid-90s.

Columbia, South Carolina
There is a flood of renovation investment going into the Bull Street District of Columbia. The project, planned over the course of a 20-year period, involves the complete redevelopment of the South Carolina State Hospital Campus as a 181-acre mixed-use space. It is hoped that the new construction will see an economic impact of around $1.2 billion.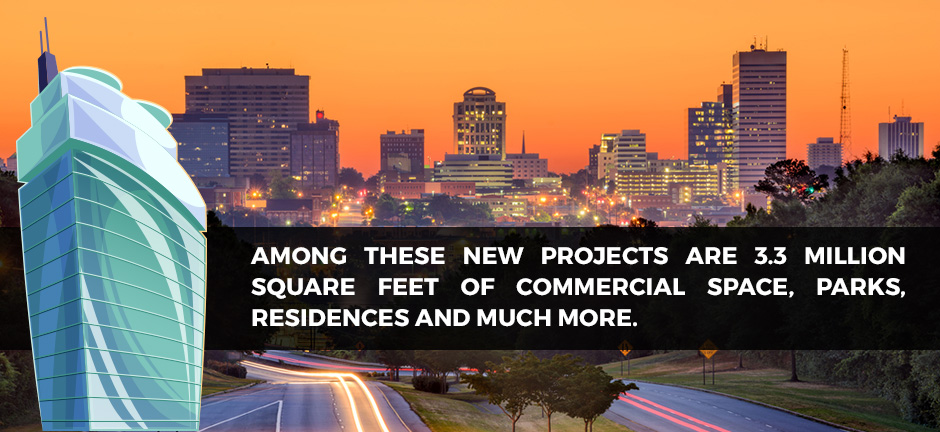 The latest urbanist form-based code will be used for the development, which hopes to retain the historic character of the area while installing new amenities. Among these are 3.3 million square feet of commercial space, parks, residences and much more. The area will be pedestrian- and biker-friendly, increasing the city's already-growing tax base.

Paducah, Kentucky
Another city from the Bluegrass State, Paducah is actively working toward revitalizing its downtown. They seek to develop, beautify and rehabilitate the historic downtown district in order to see greater commercial and residential investment. They are doing this through business grants, micro-grants and various new services for artists. Much of the funding goes to individual residents, which they can spend on everything from roofs to electrical rewiring.
Interestingly, there are also special funds for upper story residential space, to encourage living in mixed-use buildings. With funds for roof stabilization and other such small details of redevelopment, Paducah's downtown is among the most thoroughly planned.

Anderson, Indiana
It is not very often you hear that one of the goals of redevelopment is to attract young people, but that is the case with Anderson. Many of these redevelopment programs are geared toward rearing in millennials, with their carefree spending habits and hive-like group decision-making, but few seem to state it bluntly. With Anderson, many aspects of the downtown redevelopment are designed to bring the in-crowd into town.
Among the changes you will find are the extensive restoration of historic buildings, work on a brewery and distillery and new transportation options. By attracting large business, you get a thriving downtown, and with a thriving downtown, you get a lot of curious youngsters. These youngsters bring money, social media and attention to a downtown in need of revitalization.

Rockford, Illinois
In a short timeframe, downtown Rockford has seen businesses popping up all over the place, from the Rock River all the way to the Midway Theatre. Virtually all the old buildings have been revamped and now stand fully occupied. To give you a sense of how major the changes are, consider the following statistic: in 2017, there will be 700% more market-rate development taking place than there was in 1997.
Not only are people moving to downtown Rockford, but they are also doing stuff there! City Market (in the summer) and Stroll on State (in the winter) are only two of the many large social activities available to residents and those coming from nearby. The renewed interest in the urban space has also resulted in a decrease in crime.

Rocky Mount, North Carolina
Once again, we have another city in one of the Carolinas. A brewmill, urban lofts and a designation as a "Green City in the Making" are among the noteworthy accomplishments of this 55,000-strong city on the Atlantic Coastal Plain. In addition to being a nice place to work and raise a family, Rocky Mount now also features a lowered crime rate (lowest in almost 40 years), much like Rockford.
Historically, Rocky Mount was quite the bustling hub of regional activity and hopes to achieve a renaissance to its former glory through new redevelopment. Among the changes are many of the staples you would come to expect in a burgeoning downtown: jazz, chic restaurants and boutiques.

Walnut Creek, California
With a quarter of a billion dollars going into its latest building renovation, the downtown area of Walnut Creek certainly deserves its status as the go-to shopping hub for the East Bay. The new Broadway Plaza alone adds 210,000 square feet of shopping space, in addition to restaurants and better walkways.
Comparisons are already being made with Union Square in San Francisco, and, with a more recent renovation, major European retailer Zara has a new home in downtown Walnut Creek. With more shoppers going online, it is getting harder to justify large retail space investments, but Walnut Creek and others like it show that it can and should be done.

Colorado Springs, Colorado
The southwest area of downtown Colorado Springs has been the target of revitalization efforts for some time now. The goal has been to make the area walkable and well-connected, a goal which is slowly being achieved. New developments are popping up to re-imagine the space, with the U.S. Olympic Museum being a notable example.
In keeping with the theme of sports, much of the revamping is focused on health and wellness. The America the Beautiful Park is a major attraction. Efforts, in general, have been geared toward providing an economically-stimulating atmosphere.

Clarksburg, Maryland
A city taking a holistic approach to downtown redevelopment is Clarksburg in central Maryland. First, it was government services. A new State Office Building was recently built in downtown, and the DMV was relocated. Then there is the Waldomore, a historical building with a lot of community significance, which was revamped. The Board of Education was relocated, and the Performance Center is under renovation.
How all this plays out once all the construction is over may not be entirely clear, but one thing is: good city planning should be a holistic activity, not just focused on one area. The arts, sanitation and food are other areas of big change for this small city.
Las Vegas, Nevada
The Downtown Project in Vegas has seen more than 350 million dollars in investment and 800 new jobs. And that is just since 2012. One of the more interesting items in the redevelopment list is Container Park, which (as you guessed) is a series of re-purposed shipping containers that now serve as restaurants and stores.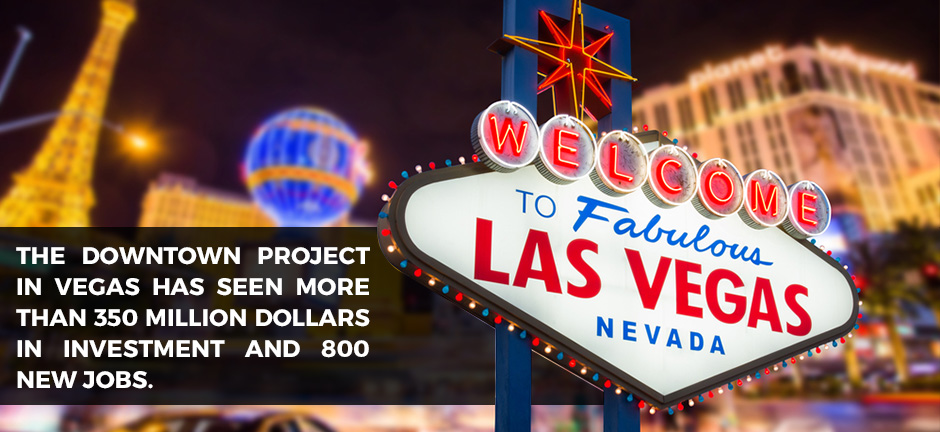 Rather than renovating historic buildings, this downtown project seeks to re-do the entire area altogether. The hope is that the steel-and-glass shine of the new downtown will attract the kind of entrepreneurs and innovators that will bring big money and even more investment. The project is slated to be completed this year.

Dallas, Texas
Another city looking to completely clear out an area to make way for a more vibrant, cutting-edge downtown space is Dallas. Hoping to get rid of the dilapidated buildings and drug-addicted residents of certain areas, Mayor Mike Rawlings saw $1 billion in projects going to a 169-acre area of South Dallas.
In place of the demolished residences are new residential units. The overall project hopes to target 15% of the tax base of the city. The concurrent Downtown 360 Plans hopes to add even grander changes to the downtown cityscape.

Jacksonville, Florida
The Brooklyn Developments project in Jacksonville hopes to provide 600 residential units, 80,000 square feet of commercial space and a community park. The football field-sized Union Plaza will host events for up to 250 days in the year. Though the project is still underway, there is a reason to hope that it will lead to an active, attractive and dynamic space.
Three separate projects (220 Riverside, Union Plaza and Riverside Place) will reinvigorate the once-quite-densely-populated parts of Jacksonville that have since fallen victim to urban abandonment.
Downtowns Today
These are only some of the downtowns slated for redevelopment or in the process of redevelopment already. All throughout the country, passionate residents are attempting to reinvigorate cities by attracting investment and planning for the future.
With the uncertainty surrounding federal infrastructure funding in recent years, it is refreshing to see so many places with a sense of local initiative attempting to keep up with national and global changes. Urban space is being redefined, and downtown areas are the epicenter of that change.
With the right vision, the right funding and the right people, any downtown can be transformed.