With over $23 billion in revenue in 2016, the electrical contracting business marked a record-setting year. Although the pace of growth has slowed for the first quarter of 2017, the trend continues upward.
The companies on this list have weathered more than just a slowdown. Most have centuries of expertise in electrical contracting industry, having survived the Great Depression and WWII. Some are industry leaders in technology while others are nation-wide heavy hitting competitors.
Today, electrical contractors must contend with a possible inflection point looming in the economy, potential hikes in interest rates, the possibility of further economic stimulus and finally, the future trajectory and performance of financial markets. More recently, the possibility of national infrastructure spending has created a notable buzz that has kept CEOs and company presidents with their ears to the ground.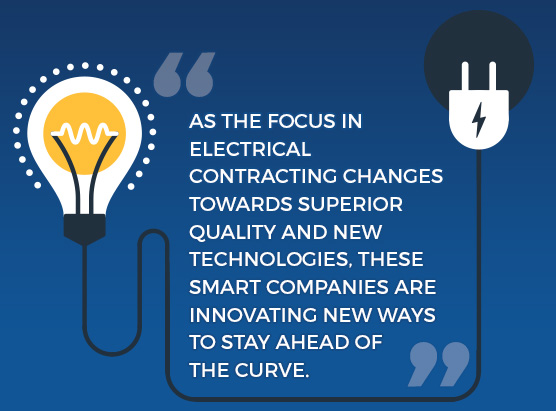 These family electrical contracting businesses know how to weather storms, seize the good days and stay one step ahead. While the smart money may be on a pullback, the opportunities to bid on new projects just seem to keep on coming.
Also, after large competitors went out of business in 2014, the focus has shifted towards providing top quality. Clients seem to demand top quality contractors who are trusted throughout the industry, meaning a family-owned or founded enterprise has the right values to succeed in today's electrical contracting climate. As the focus in electrical contracting changes towards superior quality and new technologies, these smart companies are innovating new ways to stay ahead of the curve.
The following is a list of the most competitive, successful and resourceful leaders in the industry that are also or were family owned.

1. Hardt Electric Inc. | Chicagoland, Illinois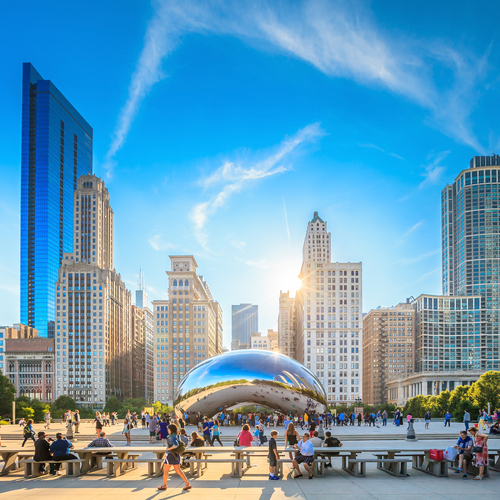 With a long family history that goes back to the 1930s, Hardt Electric Inc. is one of the most reputable and reliable electric contractors in Chicagoland. Through a strong footing based on their reputable work and partnerships, Hardt Electric Inc. has grounded their foundation in the industry by bringing the "power" back into electrical work. The company focuses on working with teams of architects, engineers, manufacturers and suppliers.
Today, Hardt Electric serves large scale clients in business and industry based around the Midwest and especially Chicagoland. Their roster of clients includes Chicago-based companies like Another World Computing and Groupon.
In addition to their work outside the business world, including the stylish Van Buren Lofts and the Hidden Oaks Nature Center, their long list of clients also includes The Institute of Cultural Affairs, Lightbank, Precision Planting, Echo Global, HMT, Rotary International, GrubHub and the Argonne National Laboratory. From their base in Chicago, Hardt Electric Inc. is a leader and innovator in the industry.

2. Henkels & McCoy | Philadelphia, Pennsylvania
Pennsylvania based Henkels & McCoy, a giant in the contracting industry, has a long and celebrated history in electrical contracting. The company was founded as a family business in 1923 and continues to be internally operated.
Henkels & McCoy has been responsible for the expansion of innovative technology westward; they even had the responsibility of installing the nation's first Community Access Television (CATV). As a large-scale operator, Henkels & McCoy is involved in all aspects of power transmission and distribution, and to this day, they retain their family oriented values.

3. Rosendin Electric | San Jose/ Santa Clara, California
Rosendin Electric has been providing electrical contracting for almost 100 years. The company was established by Moses Rosendin as Rosendin Electric Motor Works in 1919 to wire the then agricultural community of San Jose and Santa Clara, California.
Through careful business acumen and dedication, Moses Rosendin oversaw the company's success through central California through the '20s, the Depression, WWII and beyond. Growing steadily from a company of eight employees in 1930 to becoming incorporated as an Electrical Contractor in the State of California by the early '50s.
Since then, through steady stewardship, Rosendin Electric stretched its legs southwest into Arizona and New Mexico, and then expanded its reach northwards into Oregon. The Rosendin family retained full ownership of the company until the year 2000 when Rosendin employees purchased 100% of its value from the family. Today, Rosendin Electric continues the legacy created by Moses Rosendin by its faithful employees.


4. MYR Group | Chicago, Illinois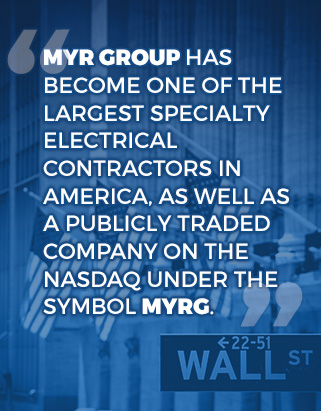 For MYR Group, one of the most successful electrical contractors in the country, what may seem like an acronym is a shortening of the last name Myers. The L.E. Myers Co. of Chicago, Illinois, was first established by Lewis Edward Myers in the late 1800s.
The company has become one of the largest specialty electrical contractors in America, as well as a publicly traded company on the NASDAQ under the symbol MYRG. Much of Myers' early work involved the development of electrical infrastructure that would light up Midwestern villages, towns and outlying areas, connecting them to major cities along railroad lines.
MYR Group is still owned by the L.E. Myers family who retain a controlling stake of the company's stock, along with its partners. Through a series of strategic acquisitions of Western Pacific Enterprises Ltd. and the E. S. Boulos Company in 2015 and 2016 respectively, the MYR Group has expanded its operations across the United States and into western Canada.


5. PIKE Electric | Beaufort, North Carolina
Family owned and darn proud of it, PIKE Electric is named after its founder and visionary Floyd S. Pike, a man determined to start a power line construction company. In 1945, Pike began his business by salvaging a truck he found at the bottom of the inland waterway near Beaufort, North Carolina. He drove that truck back to his hometown with no windshield.
Pike used that same truck to make the rounds installing electrical equipment. The same truck has today been restored and is displayed at the company's headquarters. The Pike family only has a minority stake in the company as of 2002. The electric giant has been in partnership with the Lindsay Goldberg private equity group, an investment firm that has bolstered PIKE's acquisitions and expansions. Since 2004, PIKE is the largest electric contractor in the southeast, bringing additional core experience to their expanding network through its expansion into Texas and Louisiana.

6. Cochran Electric | Seattle, Washington
In 1954, Walter Cochran and his two sons, Bob and Gordon established Cochran Electric. They started with a storefront electrical contracting office based out of Seattle. The company pulled wire and made service calls for small and local businesses.
Fast-forward to today, and Walter's granddaughter LeeAnn has shaped the company into a powerhouse and a major force in the electrical technology industry. The company seeks to bring innovation into an industry that often likes to stick to tried and true.
Cochran is regionally based in the Pacific Northwest, offering an unmatched level of expertise throughout the Seattle/King County and Portland metropolitan areas. Their expansion southward into Oregon came because of the strategic acquisition of Broadway Electric, establishing the company's presence in Portland and the metropolitan area permanently.
The company has also developed a regional network through their relationship with most major general contractors, subcontractors, designers and electrical suppliers, which make them the top contender for electrical contracting in the emerald city.

7. Fisk Electric | Houston, Texas
Ever wondered who lit up Las Vegas? Aside from the casino money that fronted the venture (1987) Fisk Electric's work has lit up Las Vegas Boulevard. For over 95 years, Fisk has experienced electrifying growth as a family-owned enterprise out of their home base in Houston, Texas. First established by John R. Fisk, the company is today a leading electrical contractor whose focus has been building technology integration through a single-source for design, installation and continuous maintenance of integrated electrical and building technology.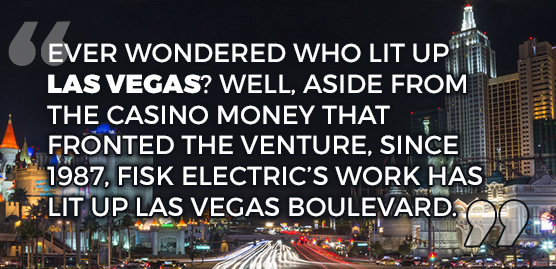 John Fisk first started his company out of a shed northwest of downtown Houston. It was a single-man venture from its early beginnings. Fisk would carry wire-roll, ladder, and cutters to install electrical wiring in houses that were illuminated by natural gas.
As the need for electricity grew, Fisk was there to supply the demand, developing a hard-earned reputation in Houston, Texas. By 1936, Fisk Electrical was responsible for the electrical installation of the 570 ft. San Jacinto Monument. Big contracts followed with the company's expansion with heavy hitting projects like Houston's Astrodome and the 44-story Exxon Building. The company has been involved in all electrical and technology systems contracting for Houston Medical Center. Houston Medical Center has the largest collection of hospital and research buildings in the world.
The company expanded eastward to New Orleans, and westwards to Las Vegas. In 1987, Fisk Electric worked on major projects for casinos and resorts. These include the MGM Grand, The Venetian, Luxor and, most notably, the recent 10-billion-dollar City Centre Project.

8. Cache Valley Electric | Logan/ Salt Lake City, Utah
Founded in 1915 as a family electric contracting company, Cache Valley Electric has built an impressive portfolio of successful projects throughout America. They are based out of Logan and Salt Lake City, Utah. The company's focus today expands beyond the basic electrical contracting. They include technological services like Teledata, networking, security and wireless communications, mission critical and other services.
CVE conducts projects for industrial, commercial, healthcare, manufacturing, higher education, sports and research facilities, hospitality, correctional facilities and residential projects. They are one of the largest electric contractors in the nation according to Engineering News Record (a McGraw Hill Publication). Cache Valley is an innovator and a staple for electrical contracting. The same magazine named Cache Valley the 60th most important contractor in the country among all categories.

9. VECA Electric & Technologies | Puget Sound, Washington State
If there is one thing VECA Electric & Technologies knows how to build better than their electrical network, it is trust. The company was started by two former WWII soldiers brothers in the Veterans Electrical Contractors Association (VECA). Their aim is to build long-term relationships-based on solid partnerships. This remains as the core value of the company to this day.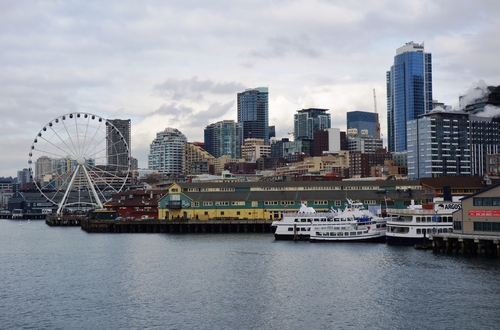 The brothers' extreme focus and vision of their company led to a partnership with Thomas Fairbanks in 1989. VECA has been involved in many things for over 60 years. They were part of designing, installing, and servicing electrical and wireless systems in new and existing buildings. These were all in the Puget Sound region of Washington State, which includes Seattle and the greater Seattle area.

10. Cleveland Electric Company | Atlanta, Georgia
The name may make you think the company is based in Cleveland, Ohio. Cleveland Electric's name is derived from its founder, Ras Cleveland, who started the company in 1925.
The company was first established in Atlanta, Georgia, as an electric motor repair shop. Cleveland Electric now expanded into apparatus repair, sales and service. In 1959, the company was passed down to Louie Cleveland and James Cleveland, Ras' sons. They saw the development and growth of the company through creation of a mechanical construction department and instrumentation company acquirement.
As the company grew, so did the nature of their projects, eventually becoming a leading electrical contractor in the southern United States. From a humble electrical repair shop to a big time player in the industry. Today, Cleveland Electric operates as an electrical, mechanical and Datacom contractor, and maintenance and service provider. In 2012, the company ranked 6th specialized contractor in Southern USA and ranks top 100 contractor in the USA.
The company is privately held by Cleveland's descendants today. And as of 2014, Vann Cleveland and John Cleveland, Ras' grandchildren, serve as Director and President respectively.